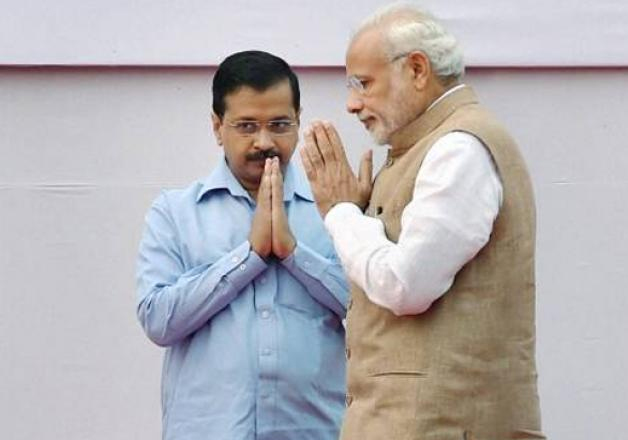 It is well known that Prime Minster Narendra Modi is the most tech savvy PM India has ever witnessed. He constantly tweets and lets the social media know of the latest development and progress. No wonder his tweets get re-tweeted at least thousand times!
However, sometimes, a few politicians try to troll PM Modi for his tweets. This time, (yet again) Delhi CM Arvind Kejriwal tried to troll PM. The incident is related to when PM Modi posted an update of him spending some time with his mother Heeraben Modi. He had gone to visit her for breakfast, as he was in Gujarat today, and he seems to have a great time. Find the tweet here: 
Skipped Yoga & went to meet mother. Before dawn had breakfast with her. Was great spending time together.

— Narendra Modi (@narendramodi) January 10, 2017
But like always, Kejriwal tried to troll him. He said that it is wrong and immoral to bring in your mother into politics. He said that he himself lives with his mother, but doesn't go around publicizing that. Find Kejriwal's tweet here: 
मैं अपनी माँ के साथ रहता हूँ, रोज़ उनका आशीर्वाद लेता हूँ लेकिन ढिंढोरा नहीं पीटता। मैं माँ को राजनीति के लिए बैंक की लाइन में भी नहीं लगाता https://t.co/CT243GCiaC

— Arvind Kejriwal (@ArvindKejriwal) January 10, 2017
He even gave a "lecture" on Bhartiya Sanskriti,that is, the Indian customs and traditions.
हिंदू धर्म और भारतीय संस्कृति कहती है कि आपको अपनी बूढ़ी माँ और धर्मपत्नी को अपने साथ रखना चाहिए। PM आवास बहुत बड़ा है, थोड़ा दिल बड़ा कीजिए https://t.co/CT243GTTzc

— Arvind Kejriwal (@ArvindKejriwal) January 10, 2017
Add to that, Advocate Somnath Bharti also joined him: 
Is this not height of want of publicity? Informing the world as if he did a great favor to her. Mr. Modi, v do it daily without advertising! https://t.co/YB3lNjfJXA

— Adv. Somnath Bharti (@attorneybharti) January 10, 2017
Little did Kejriwal knew that his lecture on Bhartiya Sanskriti would backfire. The entire Indian twitter community gave these two gentlemen a taste of their own medicine. 
1. 'PhD in Sarcaxm' had this to reply
2. This man was least surprised by his tweet
लो फिर से सुलग गयी सड़ जी की

— Doga (@Doga_The) January 10, 2017
3. Now this man did his homework and tweeted this
4. Another man exposed the hypocrisy
.@ArvindKejriwal Ye kya hai be? pic.twitter.com/0bCP2ICKXW

— Ishant Sharma (@CrimeMasterV2) January 10, 2017
5. One of them found this hilarious tweet
@ArvindKejriwal how are you now or still in toilet? pic.twitter.com/RfV1fIaYMW

— Chandragupt (@bchandragupt) January 10, 2017
It is indeed and amusing how Kejriwal always tries to troll other parties, but ends up getting trolled himself.