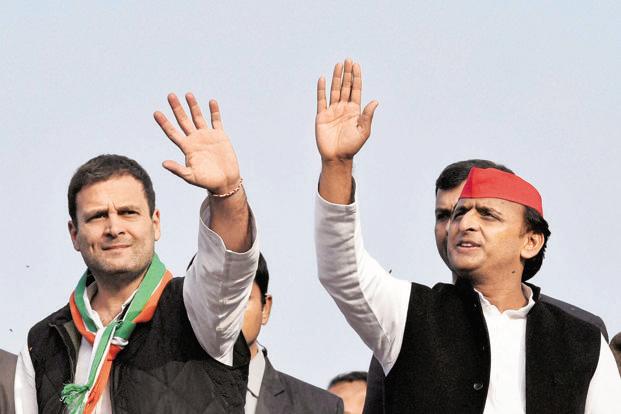 Samajwadi Party (SP) chief Akhilesh Yadav on Wednesday became one of the first core constituents of Grand Alliance or Mahagathbandhan of the Opposition to indicate inclination towards proposed anti-BJP, anti-Congress alliance aka federal front. 
Akhilesh, who was among the first to put his faith in Rahul Gandhi-led Congress with a pre-poll alliance during Uttar Pradesh polls, expressed open displeasure towards the ruling party in Madhya Pradesh for leaving out SP's lone MP out of the cabinet. 
Samajwadi Party's elected-MLA, along with four independents and a BSP MLA, was key to Congress forming government in Madhya Pradesh after the recently concluded assembly polls threw a hung assembly, leaving Congress shy of just one seat for majority. 
Also read | Akhilesh Yadav lashes out at Congress for leaving lone SP MLA out of MP cabinet
However, the Kamal Nath cabinet has failed to find a spot for the old ally SP's elected MLA in the cabinet, which has miffed Akhilesh. 
Talking to the media, the former UP Chief Minister said that by doing so, the Congress had "cleared the path for UP". 
While Akhilesh's statement hinted at his lack of interest in any future alliances with Congress, he also openly expressed support for federal front proposed by Telangana CM K Chandrasekhar Rao and even went on to congratulate him for his efforts. 
"Efforts to bring all parties together have been ongoing for many months; I congratulate Telangana Chief Minister for working in this direction. He has been trying to bring together a federal front, I'll go to Hyderabad to meet him," he told media. 
Meanwhile, Bharatiya Janata Party also commented on the changing dynamics of Mahagathbandhan with the emergence of federal front. 
Speaking to news agency ANI, BJP leader Ram Madhav today claimed that grand alliance was yet to recognise Rahul Gandhi as prime ministerial candidate. "If Rahul Gandhi could've been option for PM candidate because of recent victories,then there would've been no need for Mahagathbandhan.Even today, no one,except Stalin, is ready to confirm name of the leader of Mahagathbandhan. There are half a dozen of people in queue to become PM," Madhav said. 
Watch video: