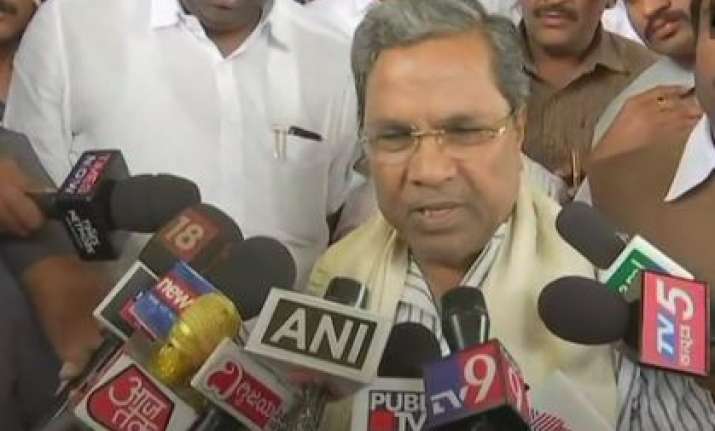 A day after PM Narendra Modi revised minimum support price (MSP) on Kharif crops to please farmers, the JD(S)-Congress coalition government in Karnataka on Thursday also waived farm loans totalling Rs 34,000 crore, giving relief to distressed farmers across the state. 
A day before the presentation of the state budget, Congress president Rahul Gandhi had already hinted in advance that state government may give relief to farmers. 
"On the eve of the Karnataka Budget, I'm confident our Congress-JDS coalition Govt will act on our commitment to waive farmer loans & to make farming more profitable. This budget is an opportunity for our Govt. to make Karnataka a beacon of hope for farmers all across India," Gandhi tweeted on Wednesday. 
However, government proposed higher levies on petrol, diesel, liquor and power to mop up more revenue.
For the mobilization of resources a small increase has been made in sales tax of diesel and petrol in the Budget. It will not be a burden: Former Karnataka chief minister Siddaramaiah pic.twitter.com/hS9fGb68oR

— ANI (@ANI) July 5, 2018
"I propose to waive farm loans totalling Rs 34,000 crore, with Rs 2 lakh per farmer family," Chief Minister H.D. Kumaraswamy announced in the Assembly while presenting the budget for fiscal 2018-19.
"All crop loans defaulted by farmers up to December 31, 2017 are waived in the first stage. Only loans borrowed from district cooperative banks and state cooperatives are waived in the first stage."
The budget has also proposed to allot Rs 6,500 crore to enable farmers avail new loans after they submit a clearance certificate from the department concerned that their loan arrears have been waived.
"Farmers who repaid loans within the stipulated time will be entitled to fresh credit up to Rs 25,000 or repaid amount, whichever is less," the Chief Minister said.
The budget, however, proposes to tax people by increasing petrol price by Rs 1.14 per litre and diesel Rs 1.12 per litre.
"I propose to increase tax on petrol and diesel by 2 per cent, (levy) additional excise duty on Indian made liquor brands (at) 4 per cent, tax on captive power (by) 20 paise per unit and motor vehicle tax on commercial vehicles (by) 50 per cent," Kumaraswamy said.
"I also propose to increase the excise duty on Indian made foreign liquor by 4 per cent to raise additional revenue for meeting the budget expenditure," he added.
Power tariff will also be increased by 20 paise per unit.
Catch all the latest news about Indian politics HERE
Incidentally, the state-run oil marketing firms increased the fuel prices on Thursday due to rise in international rates and a weakening rupee.
Following the hike, petrol in Bengaluru on Thursday was Rs 76.94 per litre and diesel Rs 68.47 per litre.
The revised excise revenue target will be Rs 19,750 crore as against Rs 18,750 crore set in the provisional budget presented by the previous Chief Minister Siddaramaiah, of the Congress, on February 16 for this fiscal.
Catch all the latest news about Lok Sabha elections 2019 HERE
Similarly, the state will generate Rs 6,656 crore from the revised motor vehicle tax proposal.
Kumaraswamy, who holds the Finance portfolio, told the legislators that he was increasing the levies to generate more revenue and reduce the burden of Rs 34,000 crore worth crop loan waiver on the exchequer.
Assuring the legislators and the people that his coalition government would continue the flagship programmes of the previous Congress government, he said that the overall size of the state budget would be Rs 2,13,734 crore.
Under the free Annabhagya (rice) scheme, the quantity of rice for free distribution has been cut to 5 kg from 7 kg per individual per month.
"I propose to allocate Rs 150 crore for agriculture development based on Israel mode. We will focus on agriculture as well as the services sector," the Chief Minister said.
The budget has earmarked Rs 50 crore for natural farming on the lines of Andhra Pradesh for higher yields and better price.
As Kumaraswamy holds the finance portfolio, he decided to present a full budget of the Janata Dal-Secular-Congress government.
For key sectors like education, the allocation is Rs 26,581 crore, water resources Rs 18,142 crore, urban development Rs 17,727 crore, energy Rs 14,499 crore, social welfare Rs 14,123 crore and Public Works Department (PWD) 10,200 crore.
(With inputs from agencies)