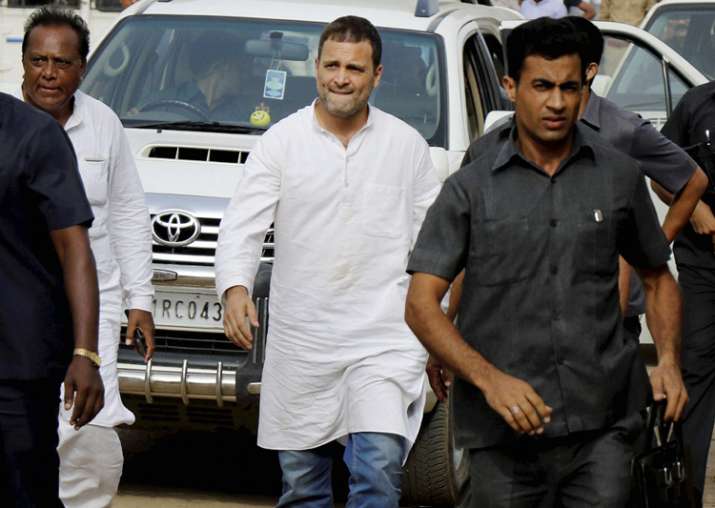 Congress vice president Rahul Gandhi today asked party workers in Gujarat not to waste their energy by protesting yesterday's attack on him and that to help those affected by floods in the state.
"Respect the sentiments of Congress workers in Gujarat protesting against the administration not filing an FIR against the stone pelting. But I urge them to divert their energy in helping the people affected by floods in the state," the Congress leader tweeted. 
Congress workers in different parts of the country including Gujarat, are protesting against yesterday's attack on Rahul's cavalcade in Dhanera town of Banaskantha district. 
but I urge them to divert their energy in helping the people affected by floods in the state

— Rahul Gandhi (@RahulGandhi) August 5, 2017
Meanwhile, a BJP youth wing leader was arrested in connection with the attack after 18 hours of night-long dharna and demonstration by Congress leaders.
Condemning the attack strongly, senior Congress leader Anand Sharma said that 'it (Congress) won't be cowed down by the cult of violence and intimidation that the followers of Nathuram Godse espouse', referring to the RSS and BJP. He said that theirs was a 130-year-old party that has seen many ups and downs and its leaders won't be scared by such tactics.
"This stone could kill a human. What was the police doing... Let me say that Rahul Gandhi and Congress party won't be intimidated by such tactics," Sharma said.
Gujarat: Congress workers hold protest in Ahmedabad against attack on the party VP Rahul Gandhi's convoy. pic.twitter.com/LZ6qmjm4Oz

— ANI (@ANI) August 5, 2017
Party spokesman Randeep Surjewala accused the Gujarat Chief Minister Vijay Rupani of shielding the goons who perpetrated the attack. "We have lodged a complaint of 'murderous assault' against four BJP workers, but the police has not registered an FIR so far," he said.
Surjewala alleged that the BJP-led Gujarat administration deliberately ignored the protocol that is followed in case of an SPG protectee, as Rahul is. "Let's tell them that Godsewaad did not succeed in 1948, and it would neither succeed now. It is Gandhiwaad that has prevailed and will prevail," he said.
On Friday, Rahul had faced hostile black-flag waving crowds shouting slogans in favour of Prime Minister Narendra Modi during his tour of flood hit Dhanera town in Gujarat's Banaskantha district, forcing him to beat a retreat. His car was also pelted with stones, shattering some windows.