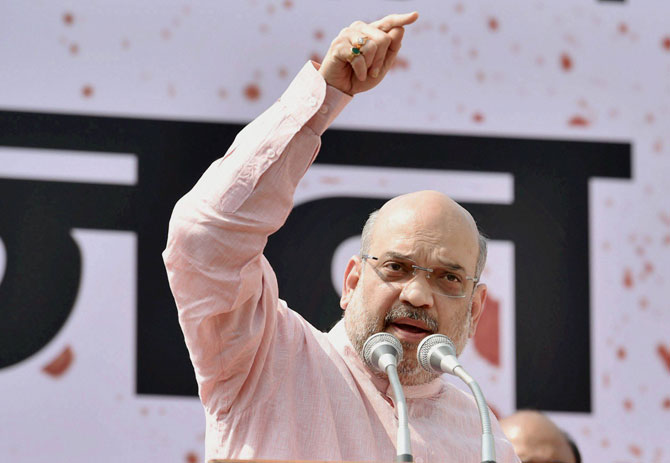 Bharatiya Janata Party president Amit Shah is set to lead the Yuva Hunkar rally in Haryana's Jind. One lakh motorcycles are expected to be mobilised during the rally. 
The rally is being seen as an attempt by the BJP to consolidate its hold on Jind and adjoining areas. Jind is considered to be the nerve centre of Haryana politics. 
State BJP leader Rajiv Jain said the rally was part of 'Mission Vistaar' or to strengthen the party at the booth level and to gear up the cadre for polls. The 'Yuva Hunkar' rally will attract youth and energise workers, a BJP leader said. 
Haryana Chief Minister Manohar Lal Khattar personally oversaw the arrangements for the event by a riding a motorcycle along the planned route on Wednesday.  
Tight security arrangements have been made in view of the rally, officials said.
 
Armed jawans could be seen in different parts of Jind and some adjoining towns, including roads leading to the venue at Pandu Pindara village, on the outskirts of the Jind city.
 
A few Companies of paramilitary forces have also reached Jind. Police and security forces have been put on alert to prevent any untoward incident taking place during the rally. 
The All-India Jat Aarakshan Sangharsh Samiti had earlier withdrawn their proposed protest rally in Jind tomorrow after talks with Khattar and Union Minister Birender Singh on Sunday night. The opposition parties, however, decided to protest in a peaceful manner. 
State AAP chief Naveen Jaihind has announced presenting 'pakodas' to Shah over the BJP's alleged failure to generate the promised three lakh jobs for the youth in the last three years. 
Main opposition INLD had announced it will show black flags and balloons to protest the failure of the BJP government on various fronts including the SYL canal issue.
Close monitoring by National Green Tribunal 
National Green Tribunal will closely monitor the rally even as the Haryana government has assured the environment body that motorcycles which have valid pollution under control (PUC) certificates would be allowed to participate in BJP chief rally. 
The state pollution control board told a bench headed by Justice Raghuvendra S Rathore that preventive measures including deployment of volunteers have been advised to tackle noise and air pollution in Jind and motorcycles would not to be allowed to enter at the rally site and the vehicles will be parked at a sufficient distance. 
The board said the district administration has been advised to display special banners or hoardings at prominent sites, hot-spots and proposed rally venue to avoid blowing of vehicle horns.