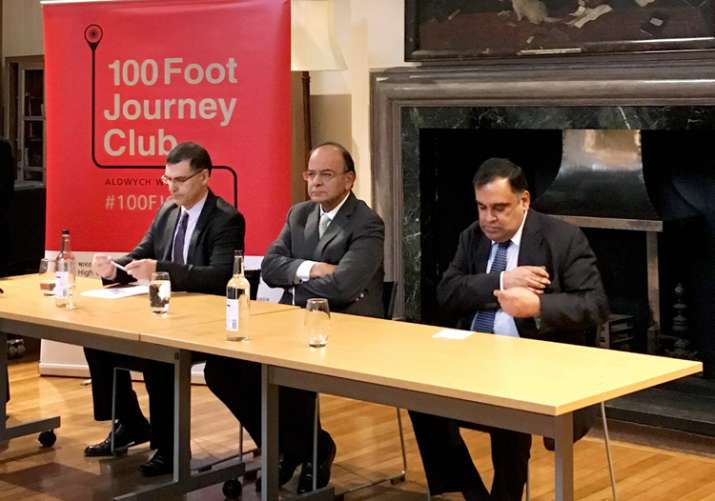 Blaming an "alliance of subversion" for violence across universities in the country, Finance Minister Arun Jaitley argued that separatists and the ultra-Left were speaking the same language in certain campuses. 
The remarks by Jaitley were made while responding to students from the South Asia Centre of the London School of Economics (LSE), who asked him about his stand on the classification of the term "anti- national" and the clashes between supporters of Left-affiliated All India Students Association (AISA) and the RSS-backed Akhil Bharatiya Vidyarthi Parishad (ABVP) at Ramjas College of the Delhi University earlier this week. 
"Any idea which thinks in terms of disintegration of (the) country, is something I abhor. Within the framework of upholding the sovereignty of (the) country, we can ideologically differ but free speech does not permit you to assault the sovereignty of the country," Jaitley said. 
Stressing that he did not believe that there was "any space for violence" on campus, Jaitley said, "I personally believe that free speech in India and in any society, has to be debated. If you believe, you have free speech to assault the sovereignty of the country, then be ready to concede free speech to counter that." 
"I find this absolutely strange that an argument is being raised that I have free speech to advocate that India should be broken into pieces and those who oppose me are hindering that right to free speech. Well, they too have a right to free speech," he said. 
"Violence is not the method; no group can and should use violence...there is an alliance of subversion which is taking place. The separatists and the ultra-Left are speaking the same language in certain university campuses. So they must be willing to allow others with a different opinion to put a counter viewpoint," he said. 
Ramjas College had witnessed violent clashes on Wednesday between students of the AISA and the ABVP that had left many injured. 
The genesis of the clash was an invite to Jawaharlal Nehru University students Umar Khalid, facing sedition charge, and Shehla Rashid to address a seminar on 'Culture of Protests' which was withdrawn by the college authorities following opposition by the ABVP. 
A few policemen and journalists were also roughed up during the violence after students from DU colleges and JNU gathered outside Ramjas College to hold a protest march against ABVP's threat to call off the seminar. 
(With PTI inputs)