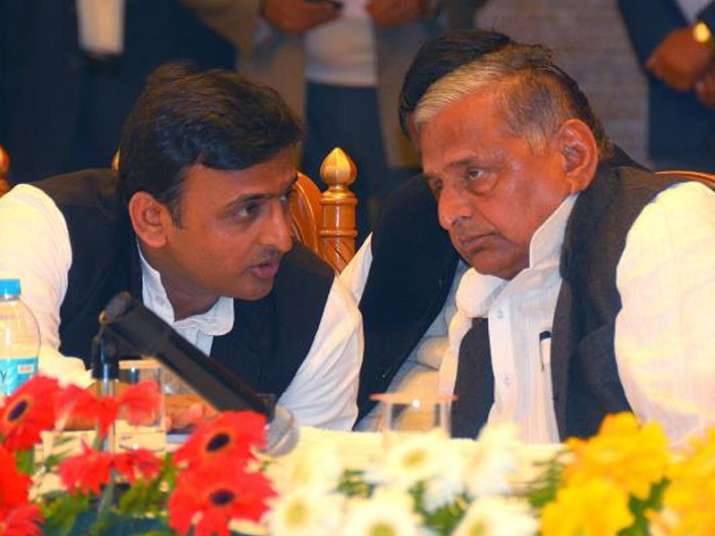 The Samajwadi Party's defeat in the Uttar Pradesh Assembly elections was certain to add fuel to the fire in the Yadav clan. Akhilesh Yadav, who wrestled power in the party from his father and party founder Mulayam Singh Yadav, is in no mood to give in despite calling all shots in the just-concluded polls. 
So, when MSY convened a meeting with newly elected MLAs to be held on Wednesday evening, his rebel son called the party legislators from both the Houses for a meeting today and passed a resolution handing all powers to call a meeting of the party MLAs and MLCs to the SP president, a position he holds himself. 
Mulayam cancelled the meeting later on.
The resolution said that no party leader except the party supremo is empowered to chair a meeting of MLAs and MLCs and that no one should attend such meetings without the president's permission.
The move comes as a clear indication that Akhilesh is unrelenting in his control on the party despite its loss in the elections. Amid any possibility of a call for a change in guard on grounds of accountability for the lost elections, the move also sends a signal to his rival camps that his authority will loom large in affairs related to the Samajwadi Party.  
Both uncle Shivpal Singh Yadav, with whom Akhilesh had an ugly spat in the run up to the polls, and party's Muslim face Azam Khan were missing from the meeting called by the former UP CM. It is believed that both leaders are unhappy with the Akhilesh's decision to appoint eight-time MLA Ram Govind Chaudhary as the Leader of the Opposition in the UP Assembly. 
Speculation was rife that Mulayam wanted the post for his younger brother Shivpal who held the post earlier too. 
Khan was also said to be keen on the post since it would send a message that SP still enjoys support from the Muslim community also to take on the BJP in the state Assembly.