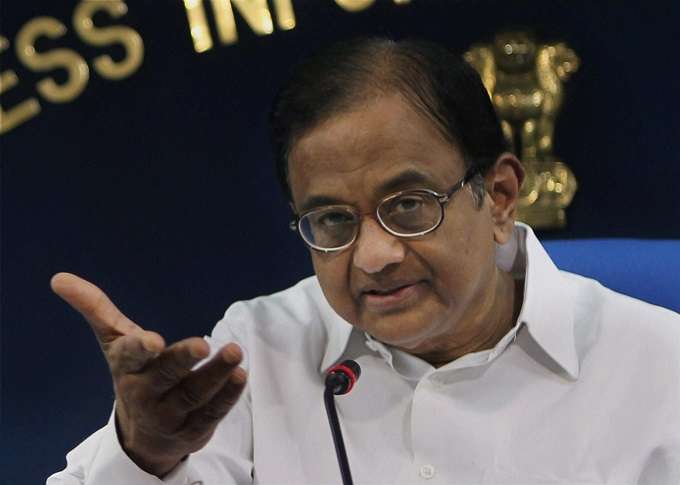 As Indira Gandhi had admitted that declaring Emergency was a mistake, Prime Minister Narendra Modi should similarly admit that demonetisation was a "flawed" decision which has badly hit the people, Senior Congress leader and former Finance Minister P Chidambaram said on Friday.
Flaying the BJP regime and Modi on demonetisation, he said "demonetisation is a measure which made 45 crore people like beggars and hassled middle class people for 45 days." 
The former Union Finance minister said nobody could deny that such hassles due to demonetisation (for getting cash) would continue for six more months. 
Addressing a public meeting at the open grounds of party State headquarters Satyamurthy Bhavan in Chennai, he said Congress cadres should meet the people and address meetings in local languages of the respective states on the issue. 
The people should be apprised that BJP's claim that demonetisation would root out black money "is a big falsehood, eliminating corruption and counterfeit currency was a deception," he said. 
On Modi's statements of a 'cashless society', he wondered how it was possible when a country like USA had "46 per cent of its transactions in cash (after 300 years of its formation) and in Germany cash transactions are 80 per cent." 
Chidambaram said the Prime Minister should have accepted that he had taken a wrong decision. 
"He (Modi) is a big (magnanimous) man... had he said that I made a mistake, had Modi sought forgiveness, he would have been a big man," the senior Congress leader said. 
He said Indira Gandhi had generously admitted that promulgation of Emergency in 1975 was a mistake as it had led to suffering of people (not in Tamil Nadu) and promised to never do it again till such time she was Prime Minister. 
"That is why she continues to live in the hearts of people as a towering leader though she passed away 32 years ago," he said. 
"There is nothing wrong in accepting one's mistake..there is nothing wrong in saying that I have done a mistake." 
Chidambaram said if Modi had admitted he had taken a "wrong decision based on wrong advice" and he was not told of the quantum of currency that will be scrapped, it would have been generous. 
If Modi had said he was not apprised about the note printing capacity and how many months it would take to print such notes and on the duration of ATM recalibration, he would have been magnanimous, he said. 
Modi should have admitted that he had not taken into consideration the fact that people would be hit and daily wage earners would be affected, Chidambaram said.
Targeting the Centre's objectives for demonetising the high value notes, to "root out blackmoney, corruption and taking on counterfeit currency," he gave a point by point rebuttal to substantiate that such goals cannot be achieved. 
On black money, he said, "black money is not a stock, it is a flow," wherein black money gets converted into white money or vice-versa with the "velocity of circulation." 
He said "if there is a demand for black money you cannot avoid supply of it...if there is demand there will be supply and you cannot root out black money."' 
Giving examples like buying or selling of property, he said black money was sought in several situations, "if you want to stop black money, you should target the fountainhead of demand." 
That was why, he said even after demonetisation, "the demand for black money continues and so does the supply ... now black money is in the form of Rs 2000 notes which was previously in the form of Rs 1000." 
Asked if corruption had stopped because of demonetisation, he said the first case of corruption after scrapping of notes allegedly happened in "Gujarat's Kandla" and now "corruption happened with Rs 2000 notes." 
Coming next to counterfeit currency, he said government had told Parliament that only Rs 400 crore worth of notes were fake and asked how counterfeit currency could be stopped through demonetisation. 
"Out of the Rs 17 lakh crore in circulation, Rs 400 crore was only 0.02 per cent of it and to root out 400 crore fake notes, the intelligent people declared Rs 15,44,000 crore notes as not legal tender," he said, amid thuderous applause from party cadres.
(With PTI inputs)