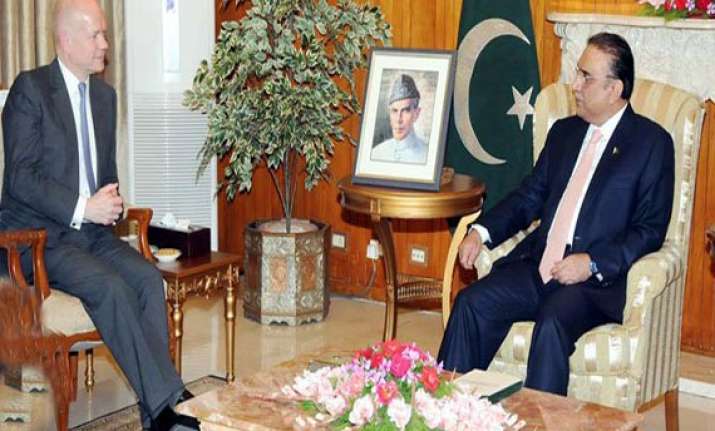 Islamabad, July 18: Visiting British Foreign Secretary William Hague Thursday met Pakistani Prime Minister Nawaz Sharif and discussed ways to revitalise Pakistan's economy, deal with the energy crisis, create a pro-investment climate and improve the security situation.
The two leaders discussed how Britain can contribute in these areas and benefit from investment and business opportunities in Pakistan, Xinhua cited the prime minister's office as saying in a statement.
Sharif reaffirmed Pakistan's commitment to support all initiatives aimed at promoting peace and stability in the region as well as in Afghanistan.
Hague arrived in Islamabad Wednesday for a two-day visit, just a few weeks after British Prime Minister David Cameron visited the country.
The two leaders discussed the entire spectrum of bilateral relations and expressed satisfaction at the direction and trajectory of the relationship, the statement said.
They noted that the visit last month of Cameron sent the right message for an enduring partnership between the two countries.
Hague expressed full support for all initiatives and reaffirmed Britain's desire to contribute to Pakistan's development and prosperity.
On Wednesday, Hague met Pakistan's Advisor on National Security and Foreign Affairs Sartaj Aziz, and said Britain has plans to work in partnership with Pakistan to provide expertise and support in developing counter-terrorism strategy.
Hague acknowledged the sacrifices made by Pakistani people in the war against terrorism.
On Afghanistan, Hague said a good relationship with Pakistan's neighbour was the key to security.
He said both Britain and Pakistan agree on the importance of peace, stability and security in Afghanistan and support an Afghan-led and Afghan-owned reconciliation process.