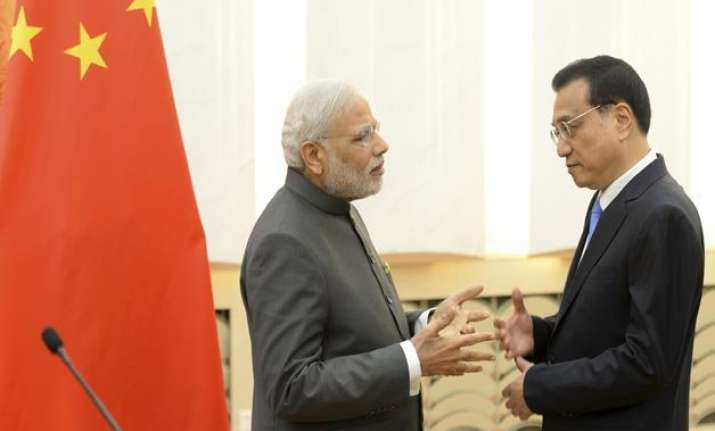 Beijing: Vowing to address the boundary issue at the earliest, India and China today decided to seek a "political" solution to the vexed dispute amid Prime Minister Narendra Modi's assertion that its resolution should transform ties without causing "new disruptions".
Modi, who held talks with his counterpart Li Keqiang, pushed for clarifying the Line of Actual Control (LAC) without "prejudice to our position on the boundary question", saying "a shadow of uncertainty always hangs over the sensitive areas of the border region" as "neither side knows where the LAC is in these areas".
The Indian leader, who announced e-visa facility for the Chinese tourists, asked Beijing to "reconsider its approach on some issues that hold us back", an apparent reference to matters like issuance of stapled visas to residents of Arunachal Pradesh over which China lays territorial claim.
The two sides decided to increase the number of border meeting points of their military personnel from the existing four as they underlined that maintenance of peace and tranquility on the border was an "important guarantor" for the development and continued growth of ties.
Modi and Li discussed a wide range of issues, including boundary dispute, trade imbalance, terrorism, investment, climate change and UN reforms, during their 90-minute talks.
Noting that India and China have had "complex" ties over the last few decades, Modi said the two nations have a "historic responsibility" to turn their ties into "a source of strength for each other and a force of good for the world."
He underlined that the two countries need to be "sensitive to each other's interests" and "think of creative solutions to issues that have become irritants—from visa policies to trans-border rivers".
Noting that the bilateral agreements, protocols and border mechanisms have been helpful, Modi said, "I have proposed resuming the process of clarifying the LAC. We can do this without prejudice to our position" on the boundary issue.
"If we have to realise the extraordinary potential of our partnership, we must also address the issues that lead to hesitation and doubts, even distrust, in our relationship.
"First, we must try to settle the boundary question quickly. We both recognise that this is history's legacy.  Resolving it is our shared responsibility to the future. We must move ahead with new purpose and determination," he said in an address at the Tsinghua University here.
Underlining that the "solution we choose should do more than settle the boundary question", Modi said, "It should do so in a manner that transforms our relationship and not cause new disruptions."
Modi emphasised that the border dispute should not prevent progress in India-China ties which have been "complex" in the recent decades, a sentiment shared by Li during their talks at the Great Hall of the People.