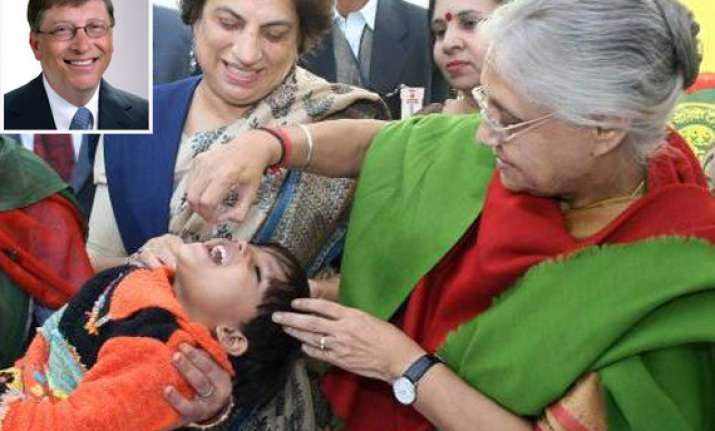 New Delhi, Jan 26: Bill Gates, co-chair of Bill and Melinda Gates Foundation, has praised India for managing to eradicate polio despite all odds. "In 2012, we need to keep India and all the other places that are polio-free from getting re-infected," he said.

Only three years ago, India had more polio cases than any nation, he noted.

This is a milestone for global polio eradication and for children's health worldwide, Mr. Gates said in his fourth annual letter released worldwide on Wednesday.

He called upon global leaders to invest in innovations that accelerated progress against poverty, or risk a future in which millions needlessly starved.

India had only one case in 2011, which was recorded on January 13 in West Bengal. So on January 13, 2012, India celebrated its first year of being polio- free.

"The challenge in India was mind-boggling. It is hard to imagine how you would design a polio campaign that reached every Indian child. More than a billion people live in the country. Massive numbers of families migrate constantly to find work. One of the largest States, Bihar, is flood-prone," he pointed out.

In some cases, the vaccine did not work as well as it had in other parts of the world, probably because of malnourishment, diarrhoea, and other illnesses.

But the government kept raising awareness and improving the quality of its campaigns, even in the toughest locations. The Indian government deserved special credit for this achievement, the letter said.

The biggest focus for 2012 would be improving the polio vaccination campaigns in Nigeria, Chad, the Democratic Republic of Congo, Afghanistan, and Pakistan.

"I recently visited Chad and Nigeria to meet with leaders there, and it is clear that we have high-level political support.

Still, deploying high-quality vaccination teams and educating parents so that every single child is vaccinated will take a lot of work.

In Nigeria, our biggest problems are low-quality campaigns and the fact that some parents don't trust that the vaccine is safe. In Pakistan, these problems are compounded by the security situation," Mr. Gates said.

The Foundation's top priority remained helping to complete the eradication of polio, perhaps the best-known vaccine-preventable disease in the world.