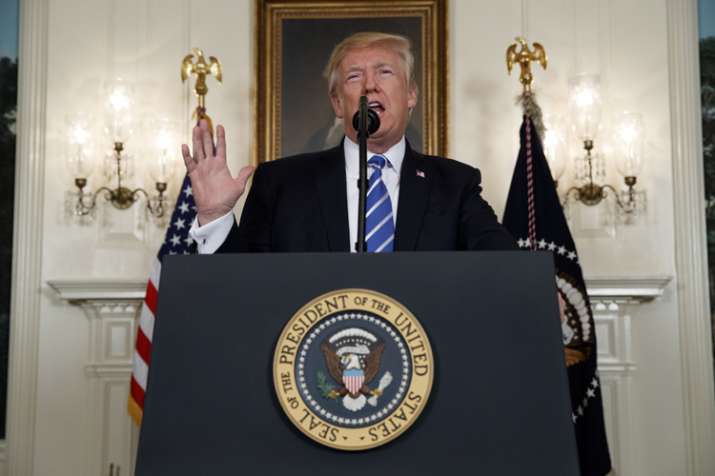 In a warning to North Korea, US President Donald Trump today said that during his trip to Asia he made it clear that he will not allow "this twisted dictatorship" to hold the world hostage to nuclear blackmail.
"I made clear that we will not allow this twisted dictatorship to hold the world hostage to nuclear blackmail," Trump said referring to his address in the national assembly of South Korea.
In a televised statement a day after returning from his 12-day marathon tour to Asia, Trump said at all the summits and throughout the trip, he asked all nations, including China, to support his campaign of "maximum pressure" for North Korean denuclearisation.
Trump said Chinese President Xi Jinping has pledged to faithfully implement United Nations Security Council resolutions on North Korea and to use his great economic influence over the regime to achieve their common goal of a denuclearised Korean Peninsula.
Trump travelled to Japan, South Korea and Japan for bilateral visits. He visited Vietnam and Philippines to attend the APEC and East Asia Summits respectively.
Trump also addressed South Korea's National Assembly where he issued a stark warning to North Korea. 
Responding to Trump's speech in Seoul, North Korea's state newspaper said it was an "open declaration of war" and that the US President has been "sentenced to death by the Korean people."
"The worst crime for which he can never be pardoned is that he dared [to] malignantly hurt the dignity of the supreme leadership," the ruling party newspaper Rodong Sinmun wrote.
"We've watched Trump's ludicrous acts with patience to the last. He should know that he is just a hideous criminal sentenced to death by the Korean people," the North Korean daily wrote in an editorial.
During his speech last week, Trump had criticised the repressive North Korean regime and painted a bleak picture of life in the country.
Trump had also slammed the human rights violations by the North Korean regime and said that the country is far from the "paradise Kim's grandfather Kim Il-sung had envisioned it to be".