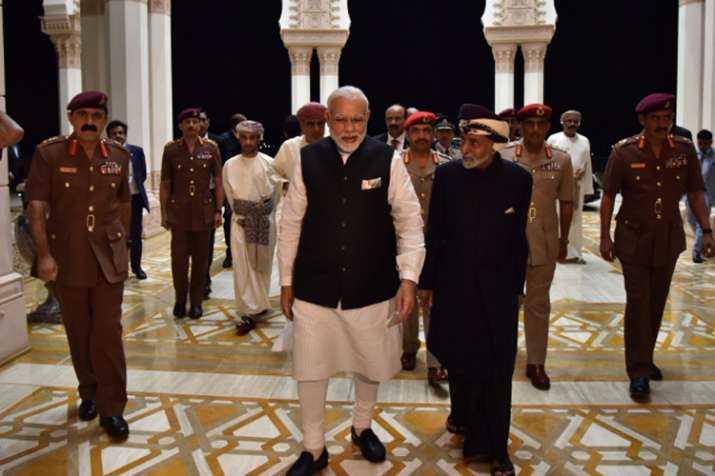 Prime Minister Narendra Modi today said his visit to Oman and talks with the oil-rich Gulf nation's top leadership will impart a "substantial momentum" to all spheres of their bilateral strategic ties. 
"This Oman visit is one I will cherish for a long time to come," Modi tweeted before concluding his two-day visit to Oman during which the two countries signed eight agreements, including one on enhancing defence cooperation. 
"This visit has helped in building upon the centuries-old ties between our enterprising people, and will impart a substantial momentum to our relations in all spheres, including trade and investment relations," Modi said.
"Thank you Your Majesty Sultan Qaboos (bin Said al Said) for your exceptional warmth, hospitality and friendship, as also your personal attention to details, that made my visit to Oman one of the most memorable visits I have undertaken anywhere, the prime minister said. 
Modi also expressed gratitude to the Sultan and the people of Oman for the tremendous support, goodwill and affection. 
"We are deeply honoured and we look forward to the forthcoming 50th anniversary of your stewardship of Oman," he said as he concluded his three-nation visit to the Palestine, the UAE and Oman. 
In a joint statement issued today, the two sides agreed that the visit of Prime Minister Modi to Oman helped in further consolidating and deepening the strategic partnership framework and further development of excellent bilateral relations in all spheres, to serve the common interests of the two countries and their peoples. 
Modi, who arrived here from Dubai on the final leg of his three-nation tour, led talks with Sultan Qaboos last night on a wide range of issues. 
During the meeting, several aspects of the existing cooperation between the two countries and means of promoting the good relations between them were discussed, the official Oman News Agency reported.
"Charting out new frontiers in our bilateral relationship, PM @narendramodi led delegation-level talks with Sultan Qaboos of Oman. The two strategic partners discussed to strengthen cooperation in trade & investment, energy, defence & security, food security and regional issues," Ministry of External Affairs Spokesperson Raveesh Kumar tweeted. 
Sultan Qaboos appreciated the contribution of "honest and hard working" Indian nationals in the development of Oman. 
After their talks, the two sides signed eight agreements, including an MoU on legal and judicial cooperation in civil and commercial matters. 
They also signed an agreement on mutual visa exemption for holders of diplomatic, special, service and official passports and an MoU on cooperation in the field of health, tourism and peaceful uses of outer space.
The two sides also signed annexure to the MoU on military cooperation. According to Oman News Agency, it envisages the services of Duqm Port and dry-dock for maintenance for Indian military vessels. 
Secretary-General of Oman's Ministry of Defence Mohammed bin Nasser al Rasbi said there are many areas of cooperation with the Indian side, whether in the field of joint exercises, training or courses, as well as exchange of experiences between the two sides and some defence purchases and projects. 
India's Ambassador Indra Man Pandey said that signing the MoUs will promote cooperation between the two friendly countries. 
He said that the Indian companies have a strong presence in Oman and have significant investments in the Omani free zones and ports in Suhar and Salalah. He said Indian investments are estimated at USD 1.8 billion in two projects in Special Economic Zone in Duqm (SEZD). 
The volume of trade exchange during this year is expected to reach USD 5.5 billion, Pandey was quoted as saying. 
The two countries also signed an agreement on cooperation between Foreign Service Institute, Ministry of External Affairs, India and Oman's Diplomatic Institute. 
An MoU on academic and scholarly cooperation between National Defence College, Sultanate of Oman and the Institute for Defence Studies and Analyses. 
Modi today met Oman's Deputy Prime Minister for the Council of Ministers Sayyid Fahd bin Mahmoud Al Said and Deputy Prime Minister for International Relations and Cooperation Affairs Sayyid Asa'ad bin Tariq Al Said. 
Modi and the two leaders exchanged views on intensifying ties in the areas of energy, trade and investment, food security, defence and security, mining and other sectors. 
He also had a meeting with leading business leaders and investors. 
Modi also offered prayers at the 125-year-old Shiva Temple, one of the oldest in the region. He also visited the iconic Sultan Qaboos Grand Mosque, the main mosque in Oman. 
In Oman, there are over eight lakh Indians and they constitute the largest expatriate community. The prime minister had also addressed the Indian community last night.
Bilateral trade rose 3.6 per cent from USD 3.8 billion in 2015-16 to USD 4 billion in 2016-17. 
On the first leg of his trip, Modi had travelled to Ramallah, becoming the first Indian prime minister to make an official visit to Palestine. From there he visited the UAE, before arriving in Oman. 
India, Oman call for isolating sponsors of terrorism 
India and Oman will coordinate efforts to counter the "misuse" of religion by groups and states for perpetrating acts of terrorism as they called for isolating its sponsors, in an apparent reference to Pakistan. 
According to a joint statement issued today at the end of Prime Minister Narendra Modi's two-day visit to Oman during which he met Sultan Qaboos bin Said, the two leaders exchanged views on regional and international issues of common interest, including the security situation in West and South Asia. 
"The two sides acknowledged the common threat posed by terrorism to peace and security and agreed to continue working together bilaterally, regionally and globally to counter this menace," said the statement. 
It said the two leaders called for isolating the sponsors and supporters of terrorism and agreed that the international community should take urgent action against all such entities, which support terrorism and use it as an instrument of policy. 
"The two sides agreed to coordinate efforts to counter extremism and radicalisation and misuse of religion by groups and countries for inciting hatred and perpetrating acts of terrorism," the statement said, indirectly referring to Pakistan, which is blamed for providing safe havens to terrorists and training Islamist militants. 
Prime Minister Modi and Sultan Qaboos decided to promote the experiences of India and Oman in building inclusive societies as effective models in countering extremism and radicalisation. 
Both sides underlined the importance of coordinated efforts to disrupt terrorist networks, their financing and movement. They also called for an early conclusion of negotiations on the Comprehensive Convention on International Terrorism in the United Nations. 
The two leaders voiced serious concerns over the misuse of cyber space as a medium to promote subversive and extremist ideologies. They agreed to enhance cooperation in this field.
Recognising their common responsibility towards promoting regional peace and security, the two sides underlined the importance of further cementing bilateral strategic engagement, especially in the areas of security and defence.
Both sides agreed to provide further impetus to the robust defence relations, including through regular holding of joint exercises by the three defence forces, training of navy, air and army officials, as also cooperation in the area of coastal defence. 
They agreed to enhance cooperation to strengthen maritime security in the Gulf and the Indian Ocean regions, vital for the security and prosperity of both countries.
Modi offered India's partnership and cooperation in areas such as minerals and mining, manufacturing, logistics, infrastructure, tourism, agriculture and fisheries, IT and IT enabled-services, skills development, innovation etc. 
He reiterated India's offer to share India's experience and capabilities with Oman in development of its renewable sources of energy, such as solar and wind power etc. 
Both sides agreed to pursue opportunities in the health care industry, including in pharmaceuticals and biotechnology sectors and resolved to encourage their private sectors to explore participation in these areas. 
They stressed the need for the UN reforms, including of the Security Council through expansion in both categories of membership, to make it more representative, credible and effective. 
Modi thanked Sultan Qaboos for Oman's consistent support for India's candidature for permanent membership in a reformed and expanded UN Security Council.