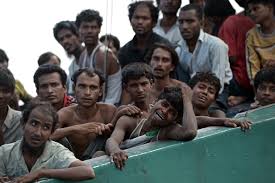 The Foreign Ministry of Bangladesh has summoned the Myanmar envoy in Dhaka in wake of the worrying scenario of the huge influx of Rohingya Muslims from Myanmar's Rakhine state into the country.
Ambassador Myo Myint Than was called to the Ministry of Foreign Affairs to meet Ambassador Kamrul Ahsan, Secretary (Bilateral and Consular), the Foreign Ministry said in a statement on Thursday.
Bangladesh has demanded the repatriation of all its Rohingya Muslim citizens, a report in bdnews24.com said.
During the meeting, senior Bangladesh diplomat Kamrul Ashan expressed deep concern at the continued influx of Muslim refugees from Mayanmar and expressed Dhaka's readiness to engage with Myanmar to discuss the modalities of repatriation.
Around 50,000 Myanmar citizens have taken asylum in Bangladesh since October 9.
Around 300,000 Myanmar nationals have been in Bangladesh for years.
In addition to requesting Myanmar for the early repatriation for the entirety of its population residing in Bangladesh, it also requested Myanmar to tackle the "root cause" of the problem in Rakhine state so that Rohingya Muslims do not have to seek shelter across the border.
Earlier in November, the Foreign Ministry had expressed its concerns over a renewed crisis concerning Muslims in the Rakhine district in Myanmar