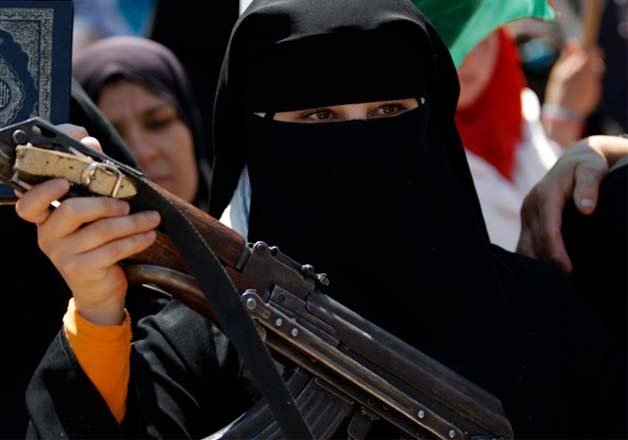 New Delhi: Sex Jihad or Sexual Jihad -- also known as Jihad-al-Nikah -- is concept that refers to Islamic women offering themselves in sexual comfort roles to terrorists to empower Islamic rule.
The concept of sex jihad first originated in a fatwa titled Jihad ul Nikaah in 2013.
According to media reports, Saudi Wahabi cleric Sheikh Mohamad al-Arifi had issued this sex jihad fatwa.
The fatwa invited women cohorts for sex jihad to provide battle comfort to the terrorists fighting the Bashar al Assad rule in Syria.
However, there are a few who view Jihad ul Nikah as a legitimate form of holy war.
India TV brings to you 10 interesting facts about Sex Jihad:
1. Following the declaration of Sex Jihad Fatwa in 2013, reports of Sunni women from Australia, United Kingdom and Malaysia voluntarily joining Sunni jihadist group Islamic State in Iraq and Syria came to the fore.
2. Sunni women travelling to Iraq and Syria for sex jihad were having sex with 20, 30 and even up to 100 militants, media reports said, adding that many women become pregnant, a Huffingtonpost report quoted Tunisian Interior Minister Lotfi Bin Jeddo as saying.
3. Some media reports stated that ISIS, after the fatwa was issued, forced families to hand over their daughters for sex jihad.
4. Some reports indicated that ISIS terrorists have been going door-to-door in several parts of Iraq and Syria, entering houses, killing the men and raping the women. They also kidnap women and girls and force them into sexual jihad.
5. ISIS terrorists, while citing Quran, say that it is permissible, laudable for Muslim women to give up their bodies to militants so that they can continue the jihad to empower Islam.
6. By doing this, according to ISIS the Quran claims, such women will get a place in paradise.
7. Reports say that ISIS forces Yazidi women and girls into sexual slavery on the name of Quran. Those who refuse to do so are violating Allah's will, they claim.
A 12-year-old Yazidi rape victim said in an interview that her attacker maintained that raping her was not sinful because the Quran condones and encourages attacking non-Muslim women.
8. ISIS militants also beat women and execute them for refusing to practice sexual jihad. Such executions are now becoming very common in ISIS occupied Iraq and Syria.
9. In December 2014, the Iraqi Ministry of Human Rights had announced that one member of ISIS had killed at least 150 females, including pregnant women, for refusing to participate in sexual jihad.
10. In August 2015, a Kurdistan Democratic Party spokesman claimed that ISIS executed 19 women who refused to participate in sexual jihad.