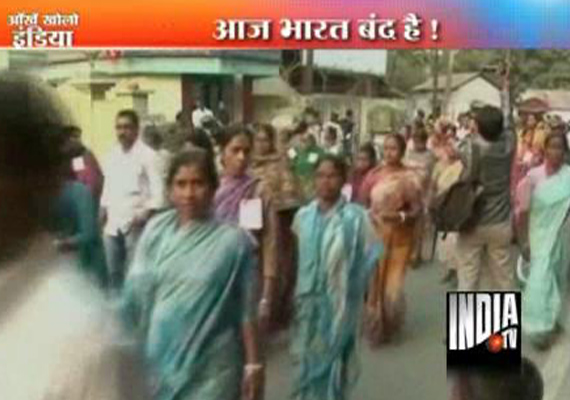 New Delhi, Feb 28: A nation-wide 24-hour strike called by 11 major trade unions today evoked a mixed response disrupting public sector banking operations and transport services in some states but normal life remained largely unaffected.

The strike in protest against the government's "anti-labour policies" was by and large peaceful with no major incidents of violence being reported.

Air services remained normal while train services were disrupted in some divisions of Eastern Railways and South Eastern Railways due to picketing by protesters.

Life in major cities, including capital Delhi, Mumbai and Chennai, was normal though it was affected in states like Kerala, Odisha and Tripura.

The stir had a mixed response in West Bengal where the Trinamool Congress government went all out to neutralise the strike with Chief Minister Mamata Banerjee personally monitoring the situation. CPI(M) criticised the Trinamool supremo for adopting 'oppressive methods to foil the strike'.

Attendance at the West Bengal state secretariat, Writers' Buildings, was at an 'unusual' 65 per cent in the wake of the warning to state government employees by Mamata that absence from duty will be treated as break in service.

In West Bengal, shops, markets and business establishments were mostly closed in some areas, while state-run buses and trams plied with fewer passengers.

100 pro-strike supporters were arrested in different districts for obstructing rail and road traffic.

Most of the PSU bank branches in major cities were open, but the attendance remained thin as majority of clerical staff abstained from work.

Although the PSU bank unions claimed that operations were badly hit with employees going on strike, the managements maintained that only some clerical staff did not report on duty. Private sector banking services were normal.

Employees of RBI in the Capital held a protest outside theiroffice and shouted slogans against the policies of the government.

In Mumbai, commercial banks reported lower attendance and loading/unloading operations at both the ports took a hit.

Besides the Left-backed unions, the pro-Congress and pro-BJP labour outfits are also backing the strike.