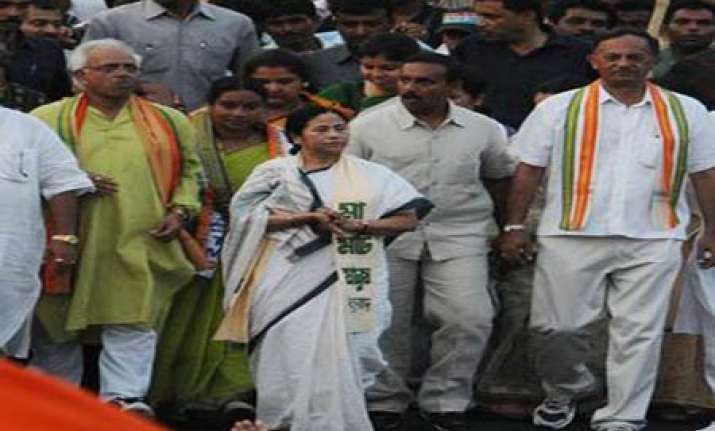 Kolkata, Apr 5 :  Trinamool Congress chief, Mamata Banerjee, who exhibited her paintings for sale to raise fund for her party's poll expenses, received thumping appreciation from eminent artists and the organiser collected over Rs 50 lakh here on Monday.

Of the 98 paintings displayed, proceeds of which will go to the party's mouthpiece 'Jago Bangla, 20 were sold on the first day of the three-day exhibition-cum-sale at a private art gallery. Three paintings were not for sale.  The buyers include industrialist Harsh Neotia, co-owner of IPL franchisee Kolkata Knight Riders (KKR), Jay Mehta and President of the Cricket Association of Bengal (CAB), Jagmohan Dalmiya.

Inaugurated by eminent painter Jogen Chowdhury, the exhibition titled '25 Hours In A Day', was widely appreciated by painters Shuvaprasanna and Sameer Aich, dance exponent Amala Shankar, singer Dwijen Mukherjee and actress Sandhya Roy among others.

Trinamool Congress Vice-President Derek O'Brien said that the exhibition was the third in six years.  The first exhibition was held in 2005 generating an amount of Rs four lakh. The second one in 2007 fetched Rs 14 lakh and the entire proceeds were given to victims of Nandigram violence.

Appreciating the paintings, Jogen Chowdhury said, "It is surprising to receive such creative art from a politician who has spontaneously expressed her feelings and dreams on canvas with the proper use of colours and imagination." Painter Shuvaprasanna said, "The paintings reflect her dream of a world, free from fear and full of love for nature and optimism."

"Her creative mind expresses everything on canvas with courage and confidence urging for peace and simplicity," he said.
Painter Sameer Aich said that she had aggression, softness and rhythm while reflecting her mind on canvas. "The paintings have great aesthetic value," he said.
Some of the paintings which drew huge attention include 'Prakriti', 'The Lost Childhood', 'The Unseen Dream', 'Ma Mati Manush', 'Junglemahal', 'Álone', 'Bodhibrikha' and'Tahader Katha'. PTI