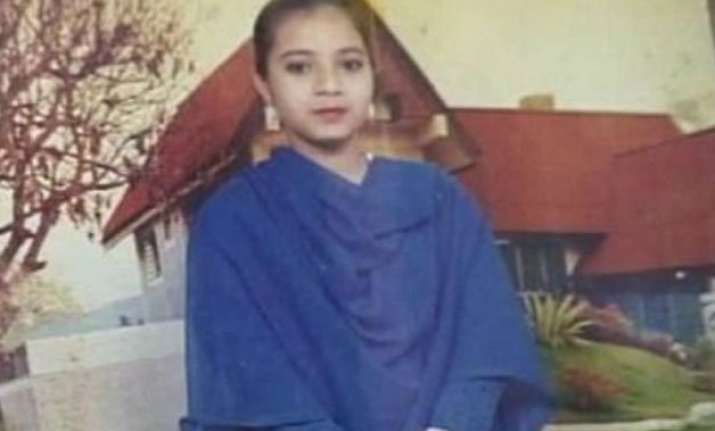 Mumbai: On the third day of his deposition, Pakistani-American terrorist David Coleman Headley told a Mumbai special court that Ishrat Jahan was a Lashkar suicide bomber.
Updates:
* Anybody who suggests that this evidence isn't valid,is trying to cover up fr an entire conspiracy to protect her real identity: M Jethmalani
* This (on Ishrat) revelation will not affect this case, but it could be used in any other case: Mahesh Jethmalani
* Headley's evidence based on info given to him by Muzamill Bhatt, seems to suggest that Ishrat was an LeT fidayeen: Mahesh Jethmalani
* Now Headley has also said about Ishrat being LeT fidayeen, suicide bomber. It confirms LeT's 1st statement: Mahesh Jethmalani
* 1st LeT had claimed Ishrat was fidayeen.But that changed after a statement by an Indian politician: Mahesh Jethmalani
* 2 of those with whom she (Ishrat) was had come from across border. I said then & now,don't play politics with terror investigation: RK Singh
* I was Home Secretary then, stood by officers who were being prosecuted. Those people were terrorists: RK Singh, BJP
* Many people said its a deal that was made-that Headley will name Jahan as a terrorist, needs far more probing; its suspicious: Sandeep Dixit
* To me it sounds suspicious, investigation should be done: Sandeep Dixit
* Some people told me a few days ago what David Headley would say. Surprising that they knew before hand: Sandeep Dixit, Congress
* Good news for the country and our agencies that we are getting a right direction: Kiren Rijiju
* Gujarat Government's standing counsel Hemantika Wahi says Headley's statement proves our consistent stand that Ishrat was an LeT operative
* I came to know that Abu Khafa was involved in 26/11 terror attack after I heard his voice on Sajid Mir's laptop: David Headley
* Sajid Mir & Abu Khafa were talking on phone with 26/11 attackers from a control room in Karachi: David Headley tells Mumbai court
* Those who were doing politics on her name and calling her martyr has got startling revelation today: Shahnawaz Hussain
* After the encounter many leaders used to call her innocent and some were calling her Bihar's daughter: Shahnawaz Hussain
* Today after David Headley's statement those minister who had said it should take back their statements: Shahnawaz Hussain, BJP
* If David Headley has made some assertions let them be investigated: Manish Tewari
* Headley pointed towards Ishrat in 2013 but at that time there was attempt to not accept truth as it was: Nalin Kohli
* An important confirmation of a fact that has been in public circulation for a long time: Nalin Kohli, BJP
* Besides India occupied Kashmir, Muzzammil Bhatt, planned many attacks in different states of India, particularly Maharashtra & Gujarat: David Headley
* Muzzammil Bhatt had planned to attack Akshardham temple in Gujarat post destruction of Babri Masjid: David Headley tells Mumbai court.
* The operation was about to shoot police at some naka. One woman LeT named Ishrat Jahan was involved: David Headley
The 19-year-old college girl Ishrat Jahan was killed on 15 June 2004 in an encounter by Gujarat police. The encounter case is an ongoing criminal case in Gujarat involving encounter killings of Ishrat, a girl from Mumbra, Maharashtra, and three men -- Pranesh Pillai (alias Javed Gulam Sheikh), Amjad Ali Rana and Zeeshan Johar.
The police alleged that Ishrat and her associates were Lashkar-e-Taiba (LeT) operatives involved in a plot to assassinate then Gujarat Chief Minister Narendra Modi.
Ishrat's family as well as several politicians and activists maintain that she was innocent. CBI declared the encounter as staged, but did not comment on whether Ishrat Jahan was an LeT associate or not.
Headley also revealed that he received terror funds, which included counterfeit currency, from both the LeT and Pakistan's ISI which was used for carrying out terror-related activity in India.
Continuing his deposition via video-conferencing from a US jail before Special TADA Court Judge GA Sanap, Headley said that the funds came through both Major Iqbal of Pakistan's Inter Service Intelligence and his main contact in LeT Sajid Mir, besides his LeT associate, medico Tahawwur Rana, currently undergoing a 14-year jail in the US.
Rana had given an amount of around Rs.67,605 in October 2006, followed by $500 the next month (November 2006), another Rs.17,636 that month-end, and in December 2006, $1,000.
Besides, Headley said he had received $25,000 before he left for India, another Pakistani Rs.40,000 from Sajid Mir and Indian Rs.2000 from Major Iqbal that year, in January 2008, LeT's Major Pasha gave Rs.80,000 while Major Iqbal gave another Rs.1,500.
During questioning by Special Public Prosecutor Ujjwal Nikam, he said on one or two occasions, Major Iqbal had also given him counterfeit currency notes.
Headley said Rana had visited Mumbai before the 26/11 terror attacks and was advised to leave for his own safety before they were actually executed.
Earlier, Headley told the Mumbai Special TADA Court that the Reserve Bank of India had rejected his application seeking clearance to open a business account in June 2007.
Making this revelation, Headley said he had received funds for terror from both LeT and Pakistan's ISI which was used for gathering intelligence and other works in India, including starting a business.
With this funding, Headley said, he opened an office in south Mumbai's Tardeo area on September 14, 2006 and the following month, on October 12, 2006, he even applied to Reserve Bank of India for permission to open a business account.
Interestingly, his visa consultant in Chicago, Raymond Sanders - who had earlier assisted him in procuring an Indian visa with false information - also helped him in the RBI formality, but the country's apex bank rejected the application on June 1, 2007.
In January 2007, hoping to launch a business in India, Headley had hired an office in Tardeo A/C Market for Rs.13,500 per month and named his landlord as Vora and Maroo Bharucha who was his secretary at the office.
The opening of office and application to open a business bank account were in consonance with the earlier plans by his handlers who wanted him to start a business in India.
Thursday's deposition was in continuation of the evidence which he recorded since Monday, with a day's interruption on Wednesday owing to a technical glitch in the videolink.