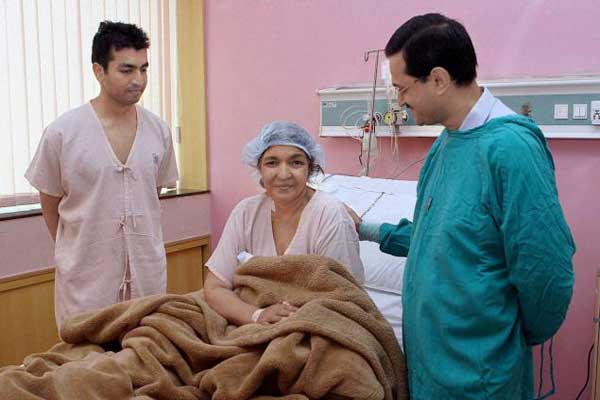 New Delhi, Aug 20 :  For 54-year old Zaib Un Nisa, a resident of Sialkot in Pakistan, the best Eid gift anyone could give her, has been delivered by a team of Indian doctors.
Doctors at Sir Ganga Ram hospital here gave the woman a new lease of life by transplanting the liver of her 26-year old son Umar Subhani on her after a challenging operation.  
"This is the best Eid gift I can get. We came here with a lot of hope and by the grace of Allah I have got a new life this Eid. The doctors here have gone out of their way to help us.
I can't thank them enough," Zaib Un Nisa said.  Wishing people on both sides of the border, a peaceful and happy Eid-ul-Fitr, Zaib Un Nisa said she hopes for more people to people contact between Indians and Pakistanis.
"I want to wish a very happy Eid to one and all," she said.  The operation was done on 14th August, which happens to be the Independence Day of Pakistan and her son's birthday as well.
"A team of 21 personnel from Sir Ganga Ram Hospital operated Zaib Un Nisa in a 16-hour long operation on 14th August, during which we transplated Subhani's liver to her.  
She was suffering from liver cirrhosis, a condition in which almost 80 per cent of her liver was damaged," Associate Director, Hepatobiliary and liver transplant department of the hospital, Dr Naimish N Mehta said.
The family had come to Delhi in February after getting a medical visa, he said. Suffering from Hepatitis C infection for more than 3-4 years, she and her family had lost all hopes till they came to know about the possibility of a treatment in an Indian hospital.
"My mother's condition was very bad. We were treating her at a hospital in Lahore and spent a lot of money on her treatment but all in vain.
After I came to know about treatment in India I contacted Ganga Ram Hospital in January this year. They were very cooperative and we came here for treatment. The doctors in India are better than Pakistan and I am very grateful to them," a visibly happy Subhani who works with Chief Minister of Punjab, said.
"It is not donation, I gave her part of my body which is rightfully hers as she has given birth to me," he added.  The doctors said the operation was technically challenging as Hepatitis C virus had caused damage to the patient's hepatic artery (which carries oxygenated blood to the Liver).
"During the liver transplant operation, the artery had to be reconstructed with a conduit. The conduit was obtained (removed) from patient's right thigh vein. This reconstruction was simultaneously performed with implantation of the new liver so that an arterial supply carrying oxygenated blood was established for the new liver, he said.
The operation costed Rs 17.75 lakhs to the family, which is a fraction as compared to any other centre in the world, and being the cheapest in the country as well, he added.
Touched by the immense support his family got from Indians from all walks of life, Subhani says that people on both the sides want to help each other. "From the hospital staff to my landlord everyone has been so helpful. Around 20 people, whom I don't even know, donated blood for the operation. I will always be grateful to them," he said.
Subhani had put up posters in Rajinder Nagar, where he is currently staying, asking for blood donations. 28-year old Aakash who is one of the blood donors, said that the nationality or religion of the patient doesn't matter. "I donated blood because they needed it. I am very happy to see that Umar's mother is getting better now," he said.  
According to Mehta, Zaib Un Nisa will be discharged in a week and she can leave for Pakistan two weeks after that. But they will have to come for a checkup in 3 months, he added. 
Hepatitis C is the 2nd commonest cause of liver cirrhosis and liver cancer infecting about 180 million people. 3% of World's population is infected, Liver cirrhosis develops in 15-20% of cases in 20-25 years.