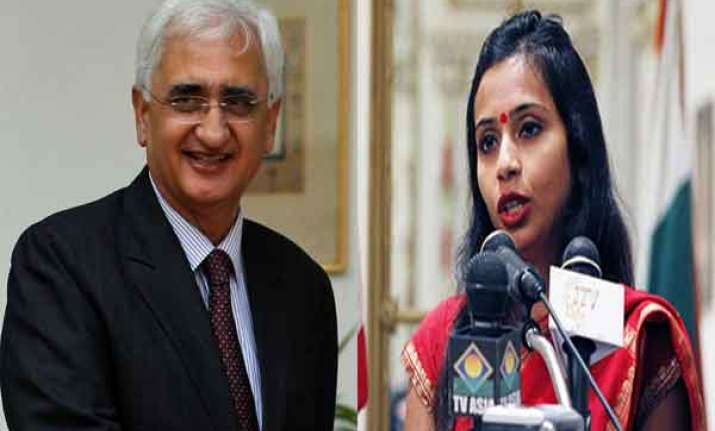 New Delhi : External Affairs Minister Salman Khurshid Wednesday said India and the US have "evidently differing perspectives" on the issue of diplomatic privileges and immunities and both sides have agreed to hold talks to avoid recurrence of Khobragade-like episodes.
In a statement to the Lok Sabha, Khurshid said the dialogue between the two countries "will be held as soon as a mutually agreed agenda and convenient dates for the meeting are finalized".
In reply to a question, he said that India is not according any special immunities and privileges to the diplomats of foreign countries. The privileges and immunities are granted under the Vienna Convention on Diplomatic Relations 1961 and the Vienna Convention on Consular Relations 1963. "In addition, immunities and privileges related to the day-to-day functioning of foreign Representations are regulated by reciprocal arrangements that may be signed between two countries. "
He said India is also extended immunities and privileges. In addition, immunities and privileges related to the day to day functioning of Indian Missions/Posts are granted by the receiving state, on the basis of reciprocal arrangements.
On Devyani Khobragade, an Indian diplomat who was arrested for alleged visa fraud in the US, he said though she was accredited as adviser to the Indian delegation to the United Nations the US has "taken the position that they do not recognise the validity of such immunity and maintains that the arrest did not contravene it, in keeping with the terms of the Headquarters Agreement concluded between the United Nations and the United States of America." Khurshid said India has raised the matter with the US and "continues to pursue it."
He said India has also raised with the US the manner in which Khobragade was arrested, saying it contravened the privileges and immunities provided to Diplomats under the Vienna Convention. The US claims that the Vienna Convention was not violated.
To a question on the media reports regarding alleged tax and visa violations by the American Embassy School in New Delhi, he said the government has sought the relevant information from the School to examine compliance with relevant Indian laws " and will take necessary action accordingly in this matter".
Khurshid also said though India has expressed serious concern and outrage at the incident, "it is also recognized that India and the US have a multi-faceted strategic partnership. Neither side sees this as a 'single issue' relationship. "
Both sides have agreed to work to address the issues arising as a result of the arrest of Khobragade, including "negotiating India's demand for the dropping of all charges against Khobragade. Towards this end, the two countries have agreed to initiate a dialogue to address all aspects related to diplomatic privileges and immunities in a mutually acceptable manner. At the same time, both sides have agreed to continue to implement other programmes of bilateral cooperation."