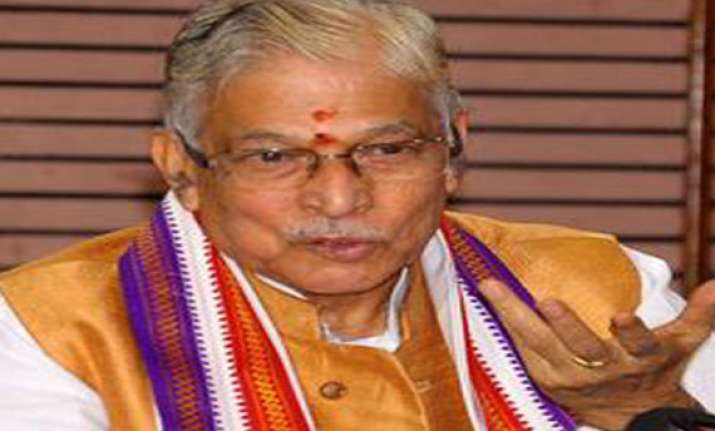 New Delhi, Nov 23: The government on Friday demanded that PAC Chairperson Murli Manohar Joshi and CAG clear the air after a former CAG official R P Singh questioned the CAG's estimates of presumptive loss of Rs 1.76 lakh crore.
"After completing the audit of Ministry of Telecom, which was under my direct charge, I prepared a draft audit report covering each and every aspect ... My report did not contain any loss figure," Mr Singh had said on Thursday.
"The issues raised by R P Singh, former DG, P&T, in CAG are very germane. What is extremely important is that in May 2010 when the draft report was prepared the loss was quantified at Rs 2,645 crore but in November 2010 when the report was presented in Parliament this loss jumped to Rs 1.76 Lakh crore. How did this leap of faith take place?" Information and Broadcasting Minister Manish Tewari asked while speaking to reporters.
Mr Tewari asked who was responsible for increasing the presumptive loss figures and said this issue should be addressed by the CAG.
"The second question is about propriety. The PAC is supposed to independently exercise oversight over the reports of CAG. If what R P Singh has said is true about the CAG officials actually taking assistance of the PAC in the preparation of its report, does this not amount to a conflict of interest?" Mr Tewari said.
He sought to know if this is a convention or a tradition which has been followed earlier and whether this was done officially or unofficially. "These are questions that the PAC Chairperson, Murli Manohar Joshi, for whom I have the utmost respect, needs to answer," the minister said.
However, Public Accounts Committee (PAC) Chairman Murli Manohar Joshi dismissed allegations by former auditor R P Singh that he tried to influence the outcome of the 2G report as an attempt to malign the institutions of CAG and PAC.
"R P Singh's allegations on 2G report are an attempt to malign Comptroller and Auditor General (CAG) and PAC by vested interests including the government," Mr Joshi told reporters in New Delhi.
Mr Joshi said Mr Singh had never raised the issue when he had appeared before the PAC to explain the loss to the exchequer caused by the 2G spectrum allocation. "I wonder why he is speaking today," he said.
Stating that "Singh had made a similar statement after his retirement. But when we questioned him he denied giving any interview. He was questioned on the issue by the Joint Parliamentary Committee as well but he failed to prove anything," Mr Joshi said.