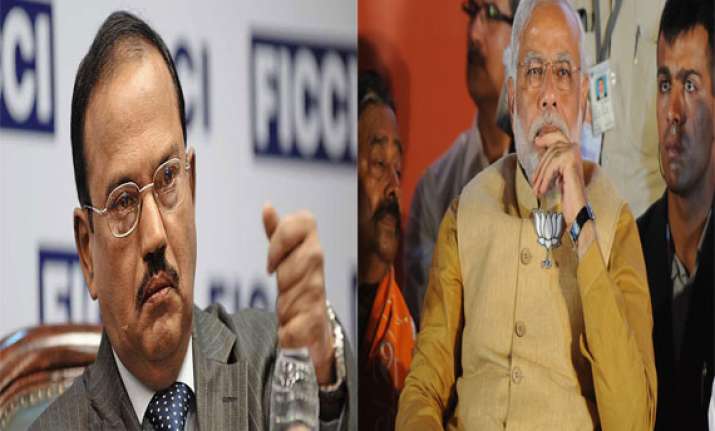 New Delhi: Former Director of Intelligence Bureau Ajit Doval on Monday met Prime Minister-elect Narendra Modi and gave him a brief on security challenges facing the country.
69-year-old Doval, who was the first police officer to be awarded 'Kirti Chakra', gave an insight to Modi about the threats that exist within and from outside the country.
"I was called for a meeting and I briefed him (Modi)," Doval said withouting elaborating further.
Doval, who runs an NGO 'Vivekananda International Foundation' providing a platform for dialouge and conflict resolutions, is among the front-runners for the post of National Security Advisor in the new BJP-led government at the centre.
A 1968-batch IPS officer, Doval, known as the best 'operational brain' within the intelligence circles, was India's main negotiator with the hijackers of Indian Airlines plane IC-814 which was taken to Kandahar in 1999.
He had conducted anti-insurgency operations in Mizoram and finally brought insurgent leader Laldenga to the negotiating table by winning over six of his seven commanders.
Doval had also successfully planned the rescue of a Romanian diplomat Liviu Radu who was abducted by Khalistan Liberation Front in 1991.