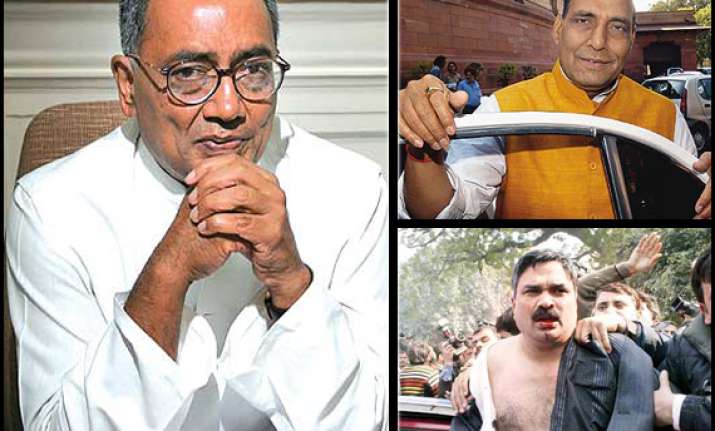 New Delhi, Jan 16: Congress general secretary Digvijay Singh today alleged that Kamran Siddiqui, the man who threw black ink on Swami Ramdev, worked as an election agent for BJP leader Rajnath Singh in the Ghaziabad Lok Sabha elections.
 
Singh told mediapersons outside the Election Commission office that  what happened on Jan 14 was "part of a larger conspiracy between BJP and Ramdev".
 
Digvijay Singh said, what was intriguing was that while Kamran Siddiqui was pouring black ink on Ramdev's face, the latter sat silent. It appears to be a set-up between Ramdev and Kamran Siddiqui, he added.
 
"Ramdev is a thug and he has been doing money-laundering and violating existing laws", said Singh.
 
"To bring back Ramdev back into the national stage, the BJP used Kamran Siddiqui, who was Rajnath Singh's agent in Ghaziabad election", said the Congress leader.
 
"I was surprised Anna Hazare gave a certificate of honesty to Baba Ramdev, at a time when he is being investigated by CBI, ED and Income Tax department. I will request Annaji not to lose his credibility", said Singh.
 
On today's incident of Bhagat Singh Kranti Sena throwing black paint on Sonia's poster outside Congress HQ, Singh said, whether it is Bhagat Singh Sena or Sangh Sena, it's all part of a big conspiracy by the RSS and BJP.