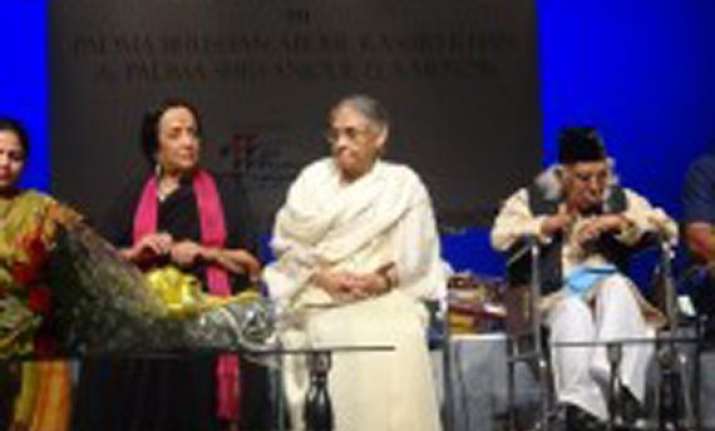 New Delhi, Aug 12:  Noted classical vocalist Abdul Rashid Khan and renowned contemporary artist Anjolie Ela Menon were yesterday honoured with lifetime achievement award by Delhi government.
Chief Minister Sheila Dikshit presented the awards to the two artistes at a ceremony by the Department of Art, Culture and Languages, which was organised by the Sahitya Kala Parishad.
The award carries a cheque of Rs 11 lakh and a citation.  Khan, who turned 106 this year, is a Hindustani classical vocalist of Gwalior gharana. He was awarded the Padma Bhushan this year and is the oldest person to have received this honour. He was earlier conferred the Sangeet Natak Akademi award.
Menon is India's leading contemporary artist whose work is renowned internationally.
She is recognised as one of the foremost Indian artists of her generation and was awarded Padma Shri in recognition of her distinguished contribution in the sphere of
arts.  
At the event, Dikshit said her government has been recognising valuable contribution of cultural and literary personalities. "They have brought fame for our country."
"I am thankful to Rashid saab and Anjolie for having accepted this award, it is indeed an honour for us. Initially, we were sceptical whether artistes and people would accept this award, but we went ahead and it has been a great journey for a small government, but our sincere efforts have made it successful. These people have made our lives beautiful," she said.
The two artistes expressed gratitude for the award and Menon said she would donate the cash amount to underprivileged children.