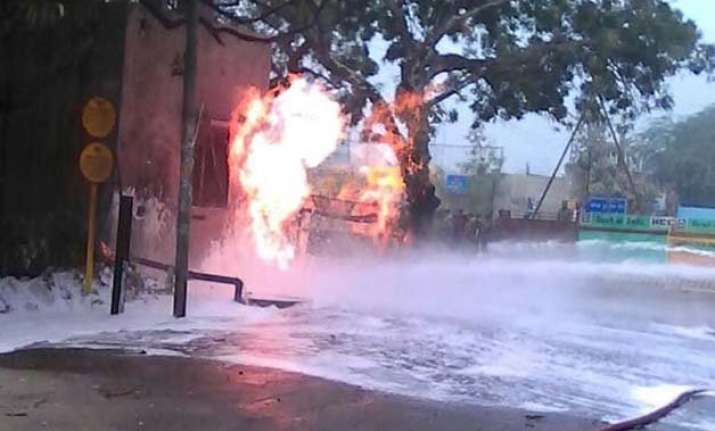 New Delhi: A major tragedy was averted here this morning when a fire broke out at GAIL's natural gas pipeline here after it was perforated by civic construction contractors in which one person received minor injuries while four cars were gutted.
The fire at the high-pressure pipeline, which carried gas to consumers like Maruti Udyog, occurred around 0945 hours this morning near Venkateswara College in Satyaniketan area, South Delhi.
Nearly a dozen fire tenders were pressed into service and it was brought under control by 1100 hours.  "The incident took place when some PWD workers were carrying out some digging work to test the soil of the spot for the construction of an elevated flyover. They accidentally punctured the pipeline which caused the fire," said a senior police official.
"Driver of an auto rickshaw which was passing from the spot at the time of the incident suffered superficial injuries on his face and stomach," he said.
The injured driver was identified as Ramprakash (40). He was discharged after first aid.
Four cars parked near the spot were "completely gutted" in the incident, he said, adding that with the help of army personnel, the remaining cars were removed from the area and locals were evacuated.
"We have registered an FIR in this connection," he said.  The incident, which took place in the middle of residential area and a shopping complex, was contained through swift action by officials of army, fire services, police and GAIL.
"We shut gas flow at both ends of the pipeline and brought the fire under control," said B C Tripathi, Chairman and Managing Director of GAIL India Ltd, the state gas utility which owns the pipeline.
The fire was first detected by a sentry of Army Transport Unit just opposite the site of the incident.  "He first heard cry of locals and saw huge fire. He immediately alerted the unit. The troops of the unit wasted no time in reaching the site with equipment including a water bowser," said an Army official.
Informing the District Commissioner, New Delhi, fire station, local police, GAIL control room and organising the traffic control by Army jawans saved the life of many people and a huge loss to the property, Army officials said.  Some elderly people and senior citizens, trapped on the second and the third floors of buildings, were also safely evacuated by the Army personnel.
In addition, inflammables like gas cylinders were removed by soldiers from the homes nearby to avoid any blast.  They even collected buckets from homes to make use of available water to keep the fire under check till such time the fire tenders arrived.
Also watch :