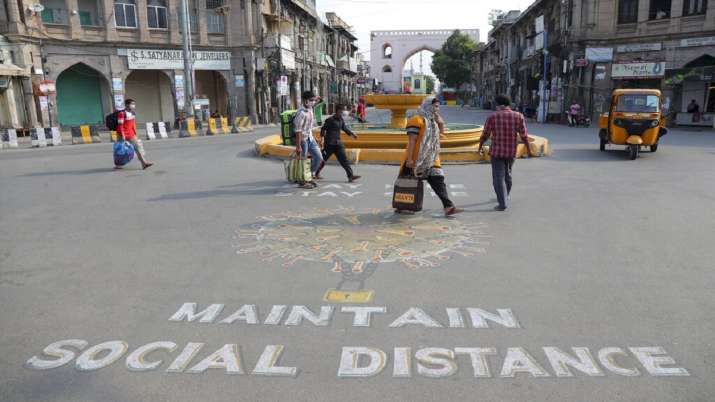 India coronavirus cases have crossed 90,000-mark taking positive patients toll to 90,927 including 2,872 deaths while 34,109 have recovered, according to health ministry's data released on Sunday. The country is registering over 3,000 average cases per day becoming a concern for the health authorities and the government.
Today is the last day of the second extended lockdown period in the country, however, the lockdown is expected to be increased further for some more time as coronavirus cases continue to surface. But the latest phase of lockdown will be different in nature as mentioned by PM Modi in his Tuesday's televised address to the nation.
Though the guidelines for the next phase of lockdown are yet to declared by the government which are expected to be out by today (Sunday). PM Modi have been interacting with chief ministers' of all the states taking suggestions from them on framing new lockdown guidelines for respective states depending on the situation of coronavirus cases.
State-wise list of coronavirus cases, deaths in the country
| Name of State / UT | Total Confirmed cases* | Cured | Deaths** |
| --- | --- | --- | --- |
| Andaman and Nicobar Islands | 33 | 33 | 0 |
| Andhra Pradesh | 2355 | 1353 | 49 |
| Arunachal Pradesh | 1 | 1 | 0 |
| Assam | 92 | 41 | 2 |
| Bihar | 1179 | 453 | 7 |
| Chandigarh | 191 | 51 | 3 |
| Chhattisgarh | 67 | 56 | 0 |
| Dadar Nagar Haveli | 1 | 0 | 0 |
| Delhi | 9333 | 3926 | 129 |
| Goa | 17 | 7 | 0 |
| Gujarat | 10988 | 4308 | 625 |
| Haryana | 887 | 514 | 13 |
| Himachal Pradesh | 78 | 43 | 3 |
| Jammu and Kashmir | 1121 | 542 | 12 |
| Jharkhand | 217 | 113 | 3 |
| Karnataka | 1092 | 496 | 36 |
| Kerala | 587 | 495 | 4 |
| Ladakh | 43 | 22 | 0 |
| Madhya Pradesh | 4789 | 2315 | 243 |
| Maharashtra | 30706 | 7088 | 1135 |
| Manipur | 7 | 2 | 0 |
| Meghalaya | 13 | 11 | 1 |
| Mizoram | 1 | 1 | 0 |
| Odisha | 737 | 196 | 3 |
| Puducherry | 13 | 9 | 1 |
| Punjab | 1946 | 1257 | 32 |
| Rajasthan | 4960 | 2839 | 126 |
| Tamil Nadu | 10585 | 3538 | 74 |
| Telengana | 1509 | 971 | 34 |
| Tripura | 167 | 64 | 0 |
| Uttarakhand | 88 | 51 | 1 |
| Uttar Pradesh | 4258 | 2441 | 104 |
| West Bengal | 2576 | 872 | 232 |
| Cases being reassigned to states | 290 |   |   |
| Total number of confirmed cases in India | 90927# | 34109 | 2872 |
ALSO READ | Coronavirus worldwide cases cross 4.7 million mark; death toll at 312,990
ALSO READ | Govt unleashes major privatisation reforms for coal, defence, power distribution and space
​