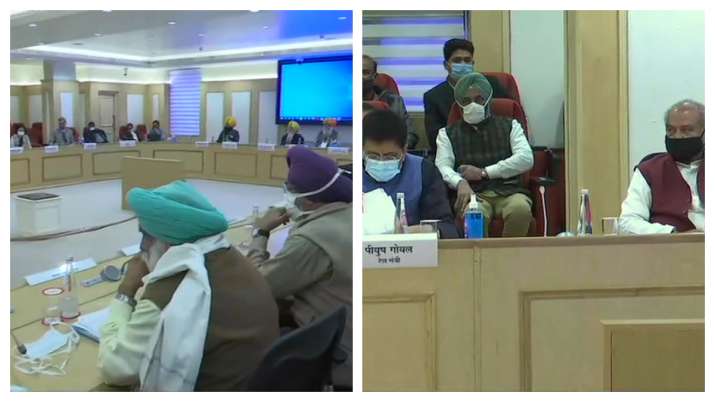 The meeting between protesting farmers and the government over the new farm laws concluded without any decision on Tuesday. The next round of meeting will be held on Thursday, December 3. During the meeting, which was held at the Vigyan Bhawan in Delhi, the government put forward a detailed presentation before the farmer leaders on Minimum Support Price (MSP) and Agricultural Produce Market Committee (APMC) Act. The government also offered the farmers to constitute a committee that would include their representatives, government members as well as agricultural experts to discuss the new agricultural laws.However, the farmer leaders turned down the proposal. 
"Our movement will continue and we will definitely take back something from the government, be it bullets or peaceful solution. We'll come for more discussions again with them," Chanda Singh, Member of farmers' delegation who met the ministers' panel told the media after the meeting.
Union Agriculture  Minister Narendra Singh Tomar said that the meeting was held in a positive atmosphere. "We will be meeting again on December 3. We obviously want them to end their agitation while discussions continue," he told the media. 
Earlier today, top BJP leaders including Home Minister Amit Shah, Agriculture minister Narendra Singh Tomar, Defence minister Rajnath Singh held a meeting at party president JP Nadda's residence to chalk out the strategy to end the stalemate. 
Meanwhile, the government has made it clear that it will not take back the three farm laws, instead its representatives will attempt to dispel their concerns over the laws. 
Thousands of farmers are camping at Delhi borders for the last five days to lodge their protest against the three farm laws. Farmers fear that the new farm laws will dismantle the minimum support price system and corporatise the agriculture sector.
In another related development, the government named a panel comprising three Union ministers -- Defence minister Rajnath Singh, Agriculture minister Narendra Singh Tomar, and Railways minister Piyush Goyal to hold the talks with the farmers.
Bhim Army chief joins farmers' protest
Bhim Army Chief Chandrashekhar Azad joins farmers' protest at Ghazipur-Ghaziabad (Delhi-UP) border.
Delhi: Bhim Army Chief Chandrashekhar Azad joins farmers' protest at Ghazipur-Ghaziabad (Delhi-UP) border. pic.twitter.com/swTxbVbiwt

— ANI (@ANI) December 1, 2020
The government's invitation from the Center on Monday came after consultations among senior BJP leaders over the ways to reach farmers' leaders. Meanwhile, Agriculture Secretary Sanjay Agarwal has also written to representatives of farmer unions, including the Krantikari Kisan Union, Jammuhari Kisan Sabha, Bhartiya Kisan Sabha (Dakauda), Kul Hind Kisan Sabha, Kriti Kisan Union and Punjab Kisan Union, inviting them for discussion on December 1. The November 13 meeting was inconclusive and the Union Agriculture Ministry had invited them for a second round of discussion on December 3 to resolve their concerns about new farm laws.
Tikri border closed for traffic 
Meanwhile, Tikri border is closed for any traffic movement, the Delhi Traffic Police said in a tweet.
Traffic Alert

Tikri border is closed for any Traffic Movement.
Badusarai and Jhatikara Borders are open only for two wheeler trafficAvailable Open Borders to Haryana are following Borders Jharoda,Dhansa ,Daurala,Kapashera, Rajokri NH 8,Bijwasan/Bajghera,Palam vihar and Dundahera

— Delhi Traffic Police (@dtptraffic) December 1, 2020
READ MORE: PM Modi reaches out to protesting farmers, cautions them against falling prey to 'propaganda'
Earlier on Monday, PM Narendra Modi said that the new farm laws have brought new options and opportunities for farmers and also provides legal protection against to them. Speaking at function in Varanasi, the Prime Minister said that while everyone can raise questions in a democracy but there is a new trend in which some people are spreading misinformation and canards against the decisions taken by the government.
"These forces have spread misinformation to such an extent that it is unbelievable. They did not even allow welfare schemes to be implemented in states where they are in power," he said, adding that the old system option was still open for farmers. "These are the same people who have been duping farmers for decades. The MSP was always announced but never implemented. Their mega schemes never reached the beneficiaries," he said.
Over 500 farmers from Bundelkhand to join 'Delhi Chalo' protest
Over 500 farmers from Bundelkhand will join the ongoing farmers' protest at Delhi border points against the new agriculture-related laws on Thursday. Bundelkhand Kisan Union (BKU) national president Vimal Sharma said all the preparations for going to the national capital have been completed and district units have been instructed to participate in the movement in a peaceful manner. "Over 500 farmers from Banda, Chitrakoot, Mahoba, Hamirpur, Jalaun, Jhansi and Lalitpur will go to Delhi on Thursday from their own means with ration and other necessary things to take part in the ongoing farmers' agitation against the farm laws made by the central government," he said.
Punjab-based farmers' body refuses to attend meeting with govt
In a related development, Punjab-based farmers' body Kisan Mazdoor Sangharsh Committee (KMSC) on Tuesday refused to participate in a meeting called by the Centre over the farm laws, demanding that representatives of all farmer unions be invited for talks. The KMSC is one of the 32 Punjab farmers' bodies invited for talks with the Centre. "A committee of several farmers' bodies has not been invited and moreover, the prime minister is not holding this meeting. Because of these reasons, KMSC is not going to attend the meeting," KMSC general secretary Sarwan Singh Pandher said.
Conspiracy to grab land of farmers: Akhilesh Yadav
Meanwhile, Samajwadi Party President Akhilesh Yadav on Tuesday attacked the BJP over the issue of farm laws, charging that under its guise there is a "conspiracy" to grab lands of farmers. The former UP chief minister also accused the government of giving false promises of doubling income of farmers. "We, who do agriculture, clearly understand the conspiracy of grabbing lands of farmers under the guise of farm laws by giving 'jumla' (false promise) of doubling the income. We are struggling as usual with our farmer brothers, so that the structure protecting the MSP, market and agriculture remains intact. BJP is over now!," Yadav said in a tweet in Hindi.