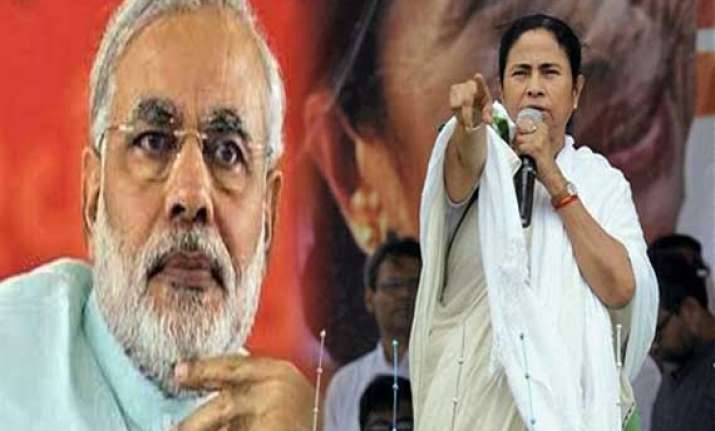 Kolkata:
Continuing their bitter poll wrangling, the BJP and the Trinamool Congress Monday moved the EC with complaints against each others' top leaders even as West Bengal Chief Minister Mamata Banerjee demanded the arrest of BJP leader Narendra Modi for using religion to seek votes
Accusing Trinamool chief Banerjee of using foul language against Modi, the BJP complained to the Election Commission (EC) that she violated the model code of conduct in force for the Lok Sabha polls.
"She is using the kind of language which is not in tune with the culture of Bengal politics and unbecoming of a chief minister. It is a clear violation of the model code of conduct," said state BJP president Rahul Sinha.
Banerjee had demanded Modi's arrest Sunday alleging he was trying to foment violence between religious communities and castes in the state.
Banerjee repeated the demand Monday while addressing an election meeting in Bongaon in North 24 Parganas district.
"A person who uses such language has no right to become prime minister. He should be lodged in jail. I don't know about others, but we will say on record that he should be jailed," she said, calling Modi "comrade dangabaaj" (comrade rioteer).
Addressing election meetings in the state April 27 and May 4, Modi had said all Bangladeshi infiltrators in West Bengal would have to leave.
Banerjee has also charged Modi with inciting violence in Assam.
Meanwhile, stepping up the pressure on the BJP, the Trinamool wrote to the EC demanding action against Modi for canvassing for votes by using religion and creating communal discord.
Trinamool Rajya Sabha member and national spokesman Derek O'Brien said his party has got the video footage of Modi's rally in Faizabad, where there were photos of a place of worship alongside his portrait.