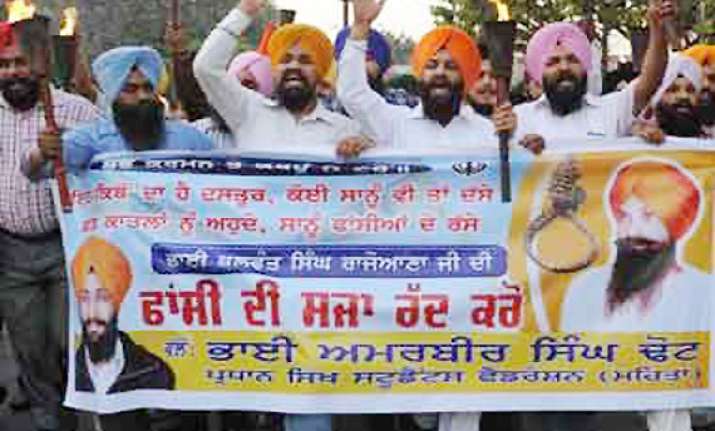 Chandigarh, Mar 28:
A day-long bandh called by radical Sikh outfits to protest the proposed execution of Balwant Singh Rajoana, convicted in the Beant Singh killing case, disrupted normal life in parts of Punjab today.
A report from Patiala said the call for bandh evoked a total response in the city where Rajoana is lodged in the local Central Jail awaiting his execution on March 31 as per the orders of the Chandigarh Sessions Court.
The situation in the industrial town of Ludhiana was peaceful. Restaurants and eating houses were open while commercial establishments in some markets were partially open.
In Phagwara, the bandh was complete in the city located on the Delhi Jalandhar National Highway. Road traffic was plying normally though the number of passengers using public transport was few.
Section of Sikhs took to streets in some areas carrying flags as security personnel patrolled sensitive areas to maintain peace.
Hardliners Dal Khalsa, Khalsa Action Committee and Khalra Mission organisation have urged the Sikh community to voluntary shut down their business establishments and observe the day-long bandh peacefully.
Security forces have been conducting flag marches at key locations in the state to instill sense of confidence among the people. Security around Patiala Central Jail where Rajoana is lodged had been beefed up with erection of additional security points.
Special control rooms have been set up in the districts to keep an eye on the movement of protestors.  On the directions of top temporal seat of Sikhs, Akal Takht, prayers are being held at different places in the state in support of Rajoana.
Trade and industry leaders had yesterday asked the Punjab Government to ensure peace and tranquility in the state in the wake of the bandh call.
The special CBI court had awarded death sentence to Rajoana and Jagtar Singh Hawara in the Beant Singh case on August 1, 2007. The Chandigarh court had issued the death warrant to the Patiala Jail authorities earlier this month, asking them to hang Rajoana on March 31.
On August 31, 1995 as Beant Singh stepped out of his office at the high-security Punjab civil secretariat in Chandigarh, a suicide bomber blew himself up, killing the then chief minister and 17 others.
Rajoana was the second human bomb to be used in case Dilawar failed in his mission.