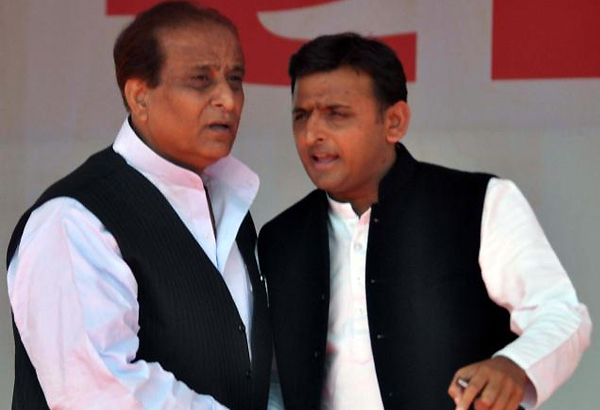 Lucknow, Mar 18: Samajwadi Party leader Mohammad Azam Khan today took oath as a Uttar Pradesh cabinet minister for the second time following the fiasco on the first occasion when he had not taken the pledge of secrecy and office as per the Constitutional procedures.

Khan was administered oath by Governor B L Joshi at a function at Raj Bhawan in the presence of senior party leaders including Uttar Pradesh Chief Minister Akhilesh Yadav.

Four ministers of state Rajendra Singh Rana, Arvind Singh Gope, Bhagwat Sharan Gangwar and Aruna Kori were also elevated with independent charge.

They were administered oath as minister of state (independent charge) by Governor B L Joshi.

On March 15, 19 cabinet ministers and 28 minister of states, besides Chief Minister Akhilesh Yadav took oath in a grand function held at La Martinere College ground.

Later, it was found that Khan had not taken the pledge of secrecy and office as per the Constitutional procedures.

A PIL was filed in the Allahabad High Court claiming that Khan has not taken oath of office as a minister as provided in the Form V of the 3rd Schedule of the Constitution.

A local lawyer, Yodendra Kumar Misra, had on Friday filed the writ petition through his counsel Hari Shankar Jain.

The petitioner had alleged that in absence of oath of office as required, no person can perform the functions as a minister and he is to be deemed an usurper of the office.

The petitioner had prayed that the court may issue a writ in the nature of quo warranto against Khan as he cannot function as a minister of the state.

Taking note of the anomaly, the political leadership checked out the video recordings of the ceremony to find out the position after which it was decided that Khan should take the oath of office and secrecy again.