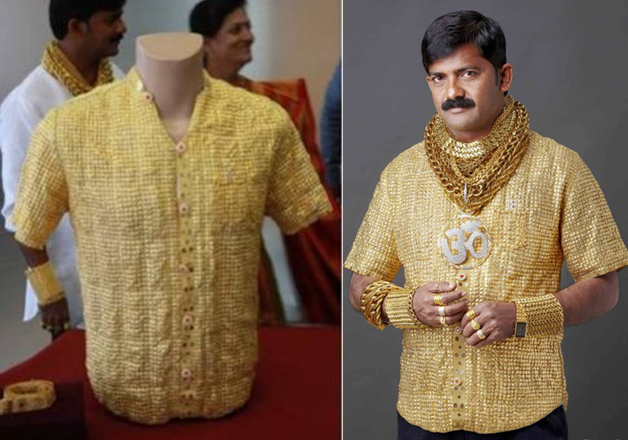 Pune: Dattatray Phuge, who shot to fame for gifting himself a Rs 1.27 crore gold shirt, was beaten to death in front of his son late Thursday night in the Dighi area near Pune city.
Phuge, a high-profile businessman, who was famous as 'Pimpri Goldman', was found clobbered to death in the Dighi area of Pimpri-Chinchwad, police said today His vehicle was accosted by some unknown persons on the outskirts of the city late on Thursday night.
The attackers reportedly dragged him out, attacked him with a sickle and then pounded him to death with huge stones before fleeing from the spot.
According to the police, at least 12 persons attacked him at an open ground here at around 11.30 pm with stones and a sharp weapon, killing him on the spot.
"As per preliminary information, Phuge and his son were invited by one of the suspects, who know each other, to celebrate a birthday. However, we are investigating how Phuge reached the open ground where he was murdered," Dighi police station inspector Navnath Ghogare said.
Phuge's 22-year-old son, who too had reached the spot following a similar 'birthday' invitation and witnessed his father's murder, was spared by the attackers, police said.
Police suspect that some dispute over a money transaction could be the reason behind the gory murder.
"We have detained four persons and suspect that dispute over a money transaction between them could be the motive behind his murder," said Ghogare.
Phuge usually moved around with armed private bodyguards, but it is not clear where they were present at the time of the incident.
Officials later came across a much-mangled head and body of the 35-year old, whose wife Seema is an ex-municipal corporator.
The police have recovered the sickle used in the crime and have sent Phuge's body for an autopsy.
In late 2012, Phuge shot into global limelight after he stitched an opulent Rs 10 million (Rs one crore) 22-carat pure gold shirt which came decorated with six glittering Swarovski crystal buttons and an accompanying flashy gold belt in a matching design.
Besides his primary business of lending money, he ran the Vakratund Chit Fund Pvt. Ltd. along with his wife and there were complaints of financial misappropriation against him in recent times.
At that time (2012), his shirt was billed as 'most expensive' in the world, weighing around 3.5 kg pure gold and 'stitched' by the famous Ranka Jewellers of Pune.
The "golden shirt' has over 14,000 gold flowers intertwined with 100,000-plus spangles sewn on a base of fine velvet, is described as easy and comfortable to wear like any normal clothes.
With Agency Inputs