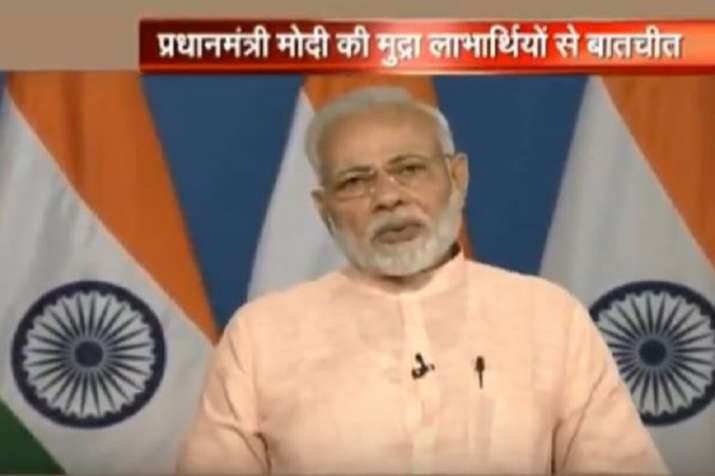 Prime Minister Narendra Modi interacted with crores of beneficiaries of Mudra Yojana, government's scheme of funding the unfunded, via teleconferencing on Tuesday.
Prime Minister Narendra Modi said that banks and financial institutions have given Rs 6 lakh crore to 12 crore beneficiaries, while adding that the Mudra Yojana has broken the "vicious cycle" of moneylenders and middlemen who used to control an entrepreneur's dream.
"Out of the 12 crore beneficiaries, 28 per cent or 3.25 crore are first-time entrepreneurs," he said. The PM also said that 74 per cent, or 9 crore, borrowers are women and 55 per cent belong to the SC/ST and OBC category.  
"Mudra yojana has protected the interests of entrepreneurs by relieving them from the vicious cycle of 'sahukars' and middlemen," PM Modi said.
"This vicious cycle had to be broken and someone had to do that. We did it, we broke it," he said and added that such schemes were never planned by the previous governments as they only focussed on 'vote bank'  politics.
PM Modi said the scheme was started to promote youngsters, women, business-minded people. "We prepared a product for those who wanted to do something," Modi said.
Watch: PM Modi's interaction with Mudra Yojana beneficiaries:
Highlights on PM Modi's interaction session:
09:58 am: Being self-employed is a matter of pride now and this scheme has helped people in achieving what previously was deemed impossible, says PM Modi.
09:55 am: Mudra Yojana is a scheme that has worked to enable the backward classes without any discrimination: PM Modi.
मुद्रा योजना एक ऐसी योजना है जिसने बिना भेद भाव से पिछड़े समाज को आर्थिक और सामाजिक बल देने का काम सफलता पूर्वक किया है : पीएम #MudraKiBaatPMKeSath https://t.co/apvCzRjonM pic.twitter.com/vKAiCDjRVq

— BJP (@BJP4India) May 29, 2018
09:45 am: Till now 12 crore loans have been approved without any guarantee and involvement of middlemen.
09:40 am: Had Mudra Yojana been implemented a few years ago, it would have helped lakhs of people to set up their own businesses and stopped migration to a great extent, says PM Modi.
हमने हमारे छोटे उद्यमियों पर भरोसा किया । मुद्रा योजना के तहत उनको लोन दिया गया ताकि वो अपना कारोबार कर सके। मुद्रा योजना से न केवल स्वरोज़गार के अवसर बने बल्कि ये अपने आप में जॉब-मल्टीप्लायर के रूप में काम कर रहा है: पीएम #MudraKiBaatPMKeSath pic.twitter.com/fcwHBjPhaK

— BJP (@BJP4India) May 29, 2018
09:38 am: Mudra Yojna has opened up new opportunities for our youth, women and those who wanted to start or spread their businesses. Not only this, Mudra Yojna is also acting as a job multiplier: PM Modi.
09:35 am: Mudra Yojana has worked to break the vicious cycle of loan lenders. The scheme has enabled people to start their own business without any collateral guarantee, says Prime Minister Narendra Modi.
09:32 am: Since independence, license raj made it difficult for common man to start his own business. PM Modi.
Pradhan Mantri MUDRA Yojana (PMMY) is a scheme launched by Prime Minister on April 8, 2015 for providing loans upto Rs 10 lakh to the non-corporate, non-farm small/micro enterprises.
These loans are classified as MUDRA loans under PMMY. These loans are given by Commercial Banks, RRBs, Small Finance Banks, Cooperative Banks, MFIs and NBFCs.