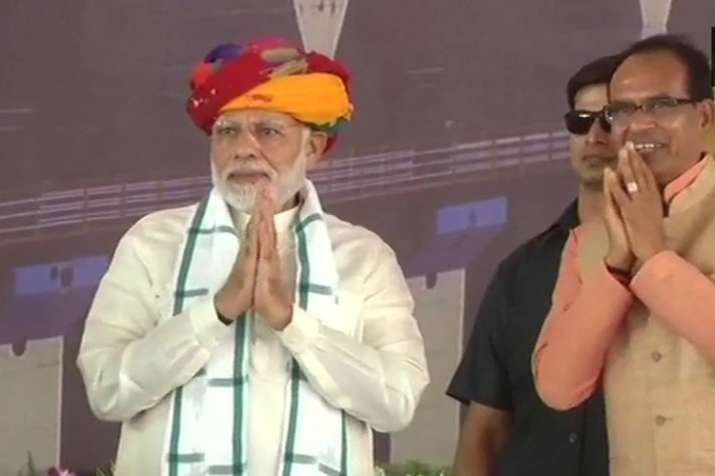 Prime Minister Narendra Modi on Saturday inaugurated the Mohanpura irrigation project in Rajgarh district of Madhya Pradesh where Assembly elections are scheduled to be held later this year. The Rs 3,866-crore project includes a dam and a canal system. It will benefit 727 villages in the state. 
Addressing a huge gathering during the inauguration event, the prime minister gave credit to the labourers "who worked hard with tools and machines, sweating it out day and night".  "I have just done the formality of launching the project by pressing the button, but it's actual launch was done when they toiled hard for it," PM Modi said.
PM Modi also used the stage to target the Congress for Madhya Pradesh's backwardness during its rule and showered praise on CM Shivraj Singh Chouhan for transforming the state from 'Bimaru' to one of the most developed ones in the country.
The prime minister landed Bhopal's Raja Bhoj Airport around 12 pm and then left for Mohanpura. He will then visit Indore to take part in various programmes. Indore, the city which has officially been declared as the cleanest in the country under Swachh Survekshan 2018, has been decked up for PM's visit. All major roads of the city have been illuminated with green lights to showcase Indore's 'cleanest city' tag. 
WATCH: What PM Modi said in Rajgarh
LATEST UPDATES:
06:00 pm: Our government is working on 5 big plans for cities. These plans include Swachh Bharat Mission, Pradhanmantri Awas Yojana-Urban, Smart City Mission, Amrut Yojana & Deendayal National Urban Livelihood Mission: PM Modi 
​05:54 pm: Our dream of Swacch Bharat for Gandhi Ji's 150th birth anniversary is now on the verge of becoming a reality. In the past 4 years, we have built more than 8 crore 30 thousand toilets: PM Narendra Modi in Indore 
02:10 pm: Double engines of Bhopal, New Delhi are pushing Madya Pradesh towards newer heights, says PM Modi addressing a public gathering in Rajgarh where he inaugurated an irrigation project.
02:08 pm: Over 4 crore women have been provided free LPG. In Madhya Pradesh, 40 lakh women have been benefitted from Ujjwala Yojana, says PM Modi.
02:05 pm: Yeh is desh ka durbhagya raha hai ki ek parivar ka mahima mandan karne ke liye, desh ke anek saputon ko aur unke yogdanon ko chota kar diya gaya, says PM Modi in Rajgarh.
02:00 pm: The Shivraj Singh Chouhan's government has worked to restore the lost glory of Madhya Pradesh. Rs 70,000 crore will be spent on micro-irrigation scheme by the government and I assure you that MP government will get all help from the Centre, says PM Modi
शिवराज जी के शासन में मध्य प्रदेश ने विकास की नई गाथा लिखी है। आज यहां मोहनपुरा में सिंचाई परियोजना का लोकार्पण और तीन वॉटर सप्लाई स्कीमों पर काम शुरू होना, इसी कड़ी का एक हिस्सा है। ये परियोजना राजगढ़ ही नहीं बल्कि मध्य प्रदेश की भी बड़ी परियोजनाओं में से एक है: PM

— PMO India (@PMOIndia) June 23, 2018
01:50 pm: You people have gathered in such huge numbers here. This shows that people who are spreading lies are unaware of ground realities: PM Modi
​
इतनी बड़ी संख्या में आपका आना इस बात की गवाही दे रहा है कि सरकार पर, उसकी नीतियों पर आपका कितना विश्वास है।
जो लोग देश में भ्रम फैलाने में लगे हुए हैं, वो जमीनी सच्चाई से किस तरह कट चुके हैं, आप इसकी साक्षात तस्वीर हैं: PM

— PMO India (@PMOIndia) June 23, 2018
01:45 pm: It is my privilege that I have got an opportunity to inaugurate three big projects worth nearly Rs 4000 crore on June 23, the day great leader of the country Shyama Prasad Mukherjee died a mysterious death in Srinagar.
01:40 pm: PM Narendra Modi inaugurates Mohanpura irrigation project in Madhya Pradesh.The irrigation project has been built at a cost of about Rs 3,866 crore. 
#MadhyaPradesh: Prime Minister Narendra Modi inaugurates the Mohanpura Irrigation project in Rajgadh district. CM Shivraj Singh Chouhan & Governor Anandiben Patel also present there. pic.twitter.com/2bv4YdtKa0

— ANI (@ANI) June 23, 2018
01:30 pm: Prime Minister Narendra Modi arrives in Rajgarh to inaugurate the Mohanpura Irrigation Project. CM Shivraj Singh Chouhan and Governor Anandiben Patel also present there.
12:30 pm: Prime Minister Narendra Modi arrives at Bhopal's Raja Bhoj airport. PM Modi will visit Indore and Rajgarh to inaugurate a slew of development projects worth crores. PM Modi was received at the airport by Madhya Pradesh CM Shivraj Singh Chouhan and other state ministers and leaders.
#MadhyaPradesh: Prime Minister Narendra Modi arrives in Rajgarh. PM will attend various programmes in Indore and Rajgarh districts during his visit. pic.twitter.com/YbVPXnFIWY

— ANI (@ANI) June 23, 2018
PM Modi also felicitate the winners of cleanliness survey -- Swachh Survekshan 2018. He gave away awards to the representatives of Indore, Bhopal and Chandigarh, the cities that secured top three positions in the survey.
The PM also inaugurated the state government's urban transport scheme named 'Sutra Seva' at Indore's Jawaharlal Nehru Stadium. This economical bus service  - 'Sutra Seva: MP Ki Apni Bus' - is being introduced in 20 selected cities of the state.
The Urban Development and Housing Department will make the bus service available inside and outside the cities under the Atal Mission for Rejuvenation and Urban Transformation (AMRUT) scheme through private partnership. 
In the first phase of 'Sutra Seva', 127 buses will start plying in four municipal corporation cities -- Bhopal, Indore, Jabalpur and Chhindwara -- and in two municipal council towns -- Guna and Bhind, the official said. 
The prime minister also dedicated 23 development projects undertaken at a cost of Rs 278.26 crore in Indore, Bhopal, Jabalpur, Gwalior and Ujjain under the Smart City Mission.
(With inputs from agencies)
Watch: Indore decked up for PM Modi's visit