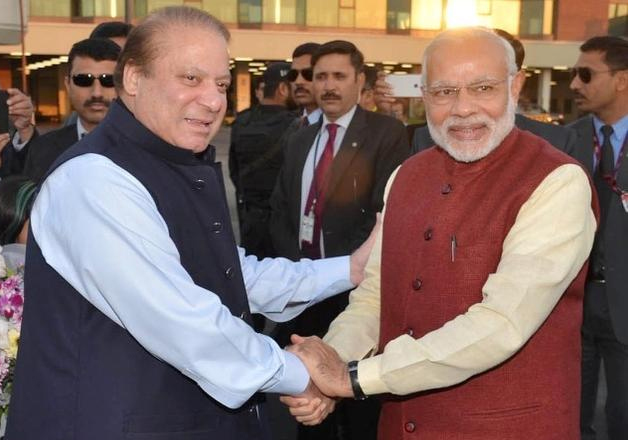 New Delhi: In what appears to be snub to Pakistan High Commissioner Abdul Basit's comments that talks with India are in a suspension mode, the country's Foreign Office said that that both Islamabad and New Delhi would work out the modalities for Foreign Secretary-level talks that was suspended in January following the Pathankot terror attack.
In response to a question whether the door was still open for negotiations between India and Pakistan, Pakistan Foreign Ministry spokesman Nafees Zakaria on Thursday said, "The door for negotiations with India was very much open." "Yes, dialogue is the best option."
"Diplomacy is for interaction and engagement between countries," he added.
"It is hoped that both sides would work out modalities for the FS-level talks. We need to look ahead and not think in terms of foreclosing any options. Both sides are in contact with each other. Once the modalities are worked out secretary-level talks would take place," he further said.
On April 7, during an interaction in New Delhi, Basit had said there is no foreign secretary-level meeting scheduled now. "There is no meeting scheduled for now. I think at present the peace process is suspended," he had said.
Foreign secretary-level talks between the two countries scheduled for the middle of January this year were derailed following the January 2 cross-border terror attack on the Pathankot Indian Air Force base in which seven Indian security personnel were killed. Pakistan-based Jaish-e-Mohammad claimed responsibility for the attack in which six attackers were also reportedly killed.
The two south Asian neighbours had agreed to start a comprehensive bilateral dialogue during a meeting between External Affairs Minister Sushma Swaraj and Sartaj Aziz, the advisor to the Pakistan PM on foreign affairs, in December.
This happened after Prime Ministers Narendra Modi and Nawaz Sharif had a seemingly impromptu meeting at the Conference of Parties (CoP)-21 climate summit in Paris on November 30 last year, which was followed by a meeting between the national security advisors of the two nuclear-armed neighbours in Bangkok on December 6.
The neighbourly rapport got a significant boost when Modi made a surprising stop at Lahore on his way back to New Delhi from Kabul on Christmas Day on the occasion of his counterpart's birthday. The next day was the wedding of Sharif's daughter.
However, the terror attack in Pathankot on January 2 strained relations between the two countries. India said it sent "actionable evidence" to Pakistani authorities to bring the perpetrators of the attack to book. Pakistan filed an FIR in Gujranwala in February against unknown terrorists in connection with the airbase attack. It then sent a joint investigation team (JIT) to India in March-end to probe the attack. Basit held the press conference after the JIT's departure.
To a question about Kirpal Singh, an Indian prisoner who died in Pakistan on April 11 following what the authorities claimed was a heart attack, Zakaria said that it was "not appropriate to see everything through the prism of suspicion and conspiracy".
"He was kept in intensive care at the hospital but he could not survive. He was given death sentence and life imprisonment by anti-terrorism court," he said.
"We have communicated this information to the Indian high commission in Islamabad," he added.
Kirpal, 54, died at a hospital in Pakistan's Kot Lakhpat Jail. He was alleged to have been involved in a bombing at Faisalabad Railway Station in 1991 and sentenced to death for spying and terrorism in Pakistan.
With IANS Inputs