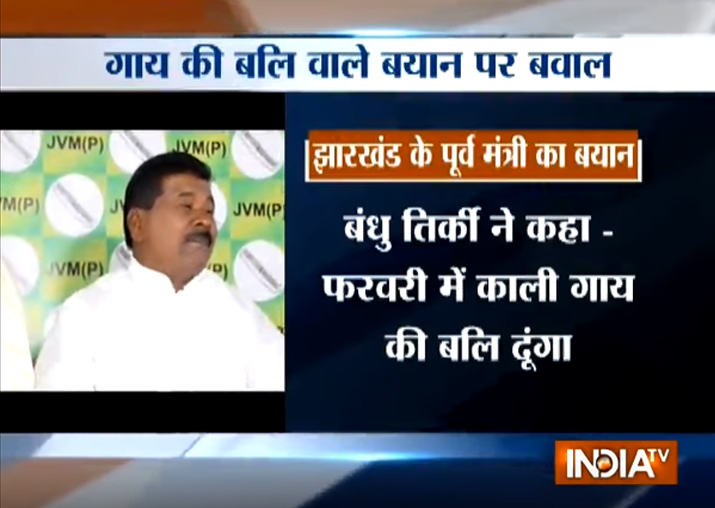 Former state minister and senior leader of Jharkhand Vikas Morcha (JVM) Bandhu Tirkey has declared that he will sacrifice a black cow in the month of February next month at his native place in Banhara to mark a festival of adivasis in the state.
Tirkey even dared the BJP government led by Raghubar Das to stop him from practicing the tradition.
"We will sacrifice a black cow in the month of February… neat the pathalgadhi (fixing of stone), we will perform puja," he told media persons.
"This custom will be executed in our mauja (village). This is a long-time ritual… it is related to our village, after each generation, we sacrifice a black cow. This is a tradition," he added.
When asked about the Prevention of Cow Slaughter Act, which prohibits slaughter or sacrifice of cows and calves in the state, he asked the state government to do whatever it thinks is right to stop him practicing the tradition.
"Let them take whatever actions they feel…," he added.
Meanwhile, JVM chief Babulal Marandi said that Tirkey has said nothing wrong. He, however, noted that the party has nothing to do with Tirkey's remarks and that it is personal views.
"He just only said that it is a custom in our society. A professor also told me that in his village, there was a custom like this… sacrificing cow after 12 years. This matter is not related to the party, he has just spoken about the tradition… and there is nothing wrong in this," he said.
Tirkey's remark stoked a war of words in the political circles with the ruling BJP criticising the JVM leader's announcement.
"Being a tribal, I can say that sacrificing a cow was never a tradition of the tribal population in this State," 
State Minister Neelkanth Singh Munda accused Tirkey of trying to misguide the community people.
"Sacrificing a cow has never been a tradition. We have never seen this or also not heard from our ancestors. He is spreading rumours to gain political mileage. The BJP opposes this," he said.
Cows, considered sacred by Hindus, have been at the centre of debate in the country for a long time. India, being a union of states has different laws for cow and cattle slaughter in different states. While some states have completely banned slaughter of cattle including bulls, bullocks and buffalo, some haven't even banned cow slaughter.
In total, there are eight states (Kerala, West Bengal, Nagaland, Mizoram, Meghalaya, Tripura, Arunachal Pradesh and Sikkim) where cow slaughter and sale of its meat is legal, two states where slaughter is conditional and sale is legal. Other 26 states and UTs have banned cow slaughter.