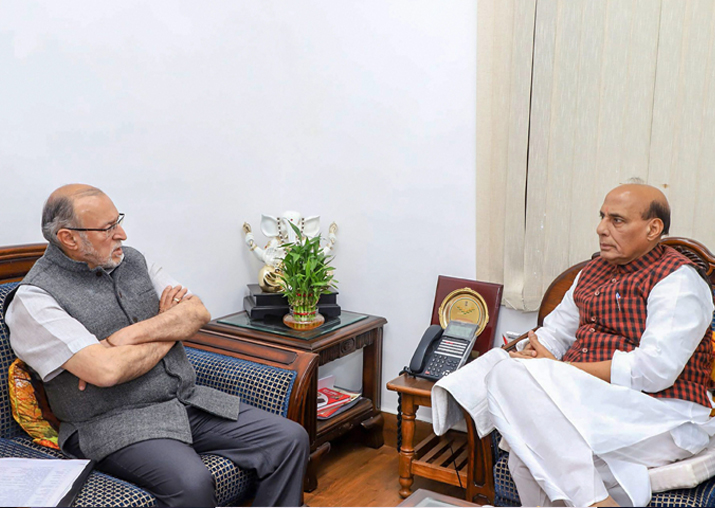 The Aam Aadmi Party today appealed to bureaucrats protesting the alleged assault on the chief secretary not to obstruct Delhi government's work, even as a forum of city officials met the Cabinet Secretary and apprised him of the "difficult working conditions" they were facing.
As the standoff between the bureaucrats and the AAP government continued, Lt Governor Anil Baijal met Union Home Minister Rajnath Singh, two days after he submitted a preliminary report over the alleged assault on Delhi Chief Secretary Anshu Prakash at Chief Minister Arvind Kejriwal's residence.
In the meeting, the Lt Governor briefed Singh about the incident and the prevailing situation under the Aam Aadmi Party (AAP) government, sources said.
With the governance of the Delhi government hit, the AAP sought to extend an olive branch to the officers.
"We appeal to the officers that the government work should not suffer," Saurabh Bharadwaj, chief spokesperson of the AAP's Delhi unit, said.
On Friday, Kejriwal and his Cabinet colleagues had also met the Lt Governor and sought his intervention in defusing tensions between the AAP government and the bureaucrats.
During its meeting with Cabinet Secretary P K Sinha, the country's top bureaucrat, a joint forum of employees and officers of the Delhi  government apprised him about the "difficult working conditions" prevailing under the AAP dispensation.
"The Cabinet Secretary gave a patient hearing to all officials and officers present and acknowledged that they are working in a difficult environment," the forum said in a statement.
"He assured all employees of complete administrative and moral support. However, he cautioned that citizens should not be put to inconvenience and delivery of services should go on, to which all the officers assured complete dedication," it said.
To register their protest against the alleged assault on Prakash, bureaucrats of the IAS and Delhi, Andaman and Nicobar Islands Civil Service (DANICS) have not been attending meetings with the AAP ministers for the last three days.
According to the officers, they would only maintain written communication until the chief minister apologises for the incident.
Meanwhile, Delhi BJP president Manoj Tiwari said that there should be no place for violence in politics and administrative work.
During the last few days, the chief secretary was attacked in the presence of Kejriwal and after that in place of taking an action against the guilty MLAs, the chief minister tried to "cover up" the incident which has shocked everyone, Tiwari alleged.
Yesterday, former bureaucrat Dhir Jhingran also resigned from the Delhi government's State Advisory Council For Education to express solidarity with Prakash.
In an unprecedented move, a Delhi Police team yesterday seized a hard disk containing CCTV footage from Kejriwal's residence in connection with the alleged assault.
Union minister Hansraj Gangaram Ahir yesterday hinted that Kejriwal might be questioned by the police in connection with the alleged assault on the bureaucrat.
"Whosoever it may be, the police will question all those in whose presence the incident took place," he had said.