Follow us on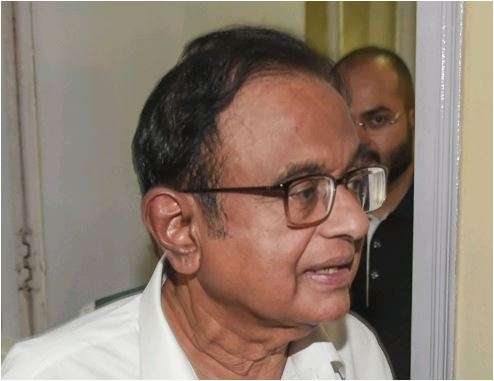 Former Union Home Minister P Chidambaram has been remanded to CBI custody till Monday, August 26. The CBI court passed the order on Thursday. In a dramatic sequence of events, former finance minister P Chidambaram was arrested by the Central Bureau of Investigation (CBI) in the INX media case Wednesday night from his residence with the agency sleuths scaling walls to enter into his bungalow in the high-end Jor Bagh locality in New Delhi. After his arrest, doctors from the Ram Manohar Lohia Hospital conducted medical examination on him at the CBI headquarters. Chidambaram had been kept in the suit No. 5 of the CBI Guest House on the ground floor of the agency headquarters. 
P Chidambaram's son, Karti Chidambaram was leading a protest against his arrest at New Delhi's Jantar Mantar. Senior leaders like Ghulam Nabi Azad, Brinda Karat and Sitaram Yechury were at the Jantar Mantar protest site.
Check out how things unfolded
7:05 PM: Former Union Home Minister P Chidambaram has been sent to CBI custody. But what is the case against him?
7:00 PM: Chhattisgarh Chief Minister Bhupesh Baghel alleged that the BJP-led government is targetting P Chidambaram to suppress a voice of dissent. Baghel said that the government did not like that Chidambaram was criticising it and that he was pointing out government's failure.
6:55 PM: Chidambaram left the courtroom with CBI officials minutes after court passed the order.
6:52 PM: Chidambaram will undergo medical check-up every 48 hours. He will be allowed to meet family for 30 minutes daily.
6:38 PM: P Chidambaram has been sent to CBI custody August 26.
6:34 PM: Chidambaram has entered the witness box.
6:29 PM: Supreme Court will hear Chidambaram's petitions for anticipatory bail tomorrow (August 23) 
6:25 PM: Sources have told India TV that CBI is also investigating the trail of payments in several companies abroad and letter of Rogatory (LR) have been sent to the concerned countries.
6:10 PM: Courtroom waits for the judge to arrive. Chidambaram has already reached and is speaking with his lawyers.
4.34 PM: CBI counsel Tushar Mehta: 'Chidambaram has tremendous potential of not cooperating in probe since he is highly intelligent'. 
4.30 PM: Police remand can only be in special circumstances and this is also a case where there is no new development, AM Singhvi tells the court.
4.14 PM: P Chidambaram has already answered 6 out of 12 questions asked by CBI and ED. 
4:04 PM: Investigation is complete as draft chargesheet is ready, sanction was sought, says Kapil Sibal in court, adds Foreign Investment Promotion Board approval is given by 6 Govt Secretaries, none have been arrested. This is a case of documentary evidence. He (Chidambaram) has never skipped interrogation, Kapil Sibal said while making a strong pitch for Chidambaram's bail.
4:00 PM: Kapil Sibal opposes 5-day custodial interrogation sought by CBI
3:59 PM: Kapil Sibal arguing for P Chidambaram in court, says the accused in this case is Karti Chidambaram who was granted regular bail by the Delhi High Court in March 2018, challenges in Supreme Court not interfered. Other accused also got bail. Peter and Indrani Mukerjea on default bail.
3:57 PM: Custodial interrogation of Chidambaram necessary to unearth quid pro quo and larger conspiracy, money trail in the scam made out and has to be probed: CBI tells court
3:56 PM: Grave offence was committed, custodial interrogation required to get the answer of certain questions for effective probe: Mehta to court
3:55 PM: Mehta says charge sheet yet to be filed in the case and we need material which Chidambaram is holding
3:54 PM: Solicitor General places before court judgement of Delhi HC dismissing Chidambaram's anticipatory bail plea
3:53 PM: Chidambaram to be confronted with documents relating to the INX Media scam, says Solicitor General Tushar Mehta
3:52 PM: CBI says preparing chargesheet in Chidamabaram case 
3:50 PM: Solicitor General Tushar Mehta, for CBI, says Chidambaram was in conspiracy with others in the INX Media scam
3:46 PM: Chidambaram not cooperating with hearing in court, refuses to answer questions, says CBI team
3:42 PM: Court proceedings put on a brief halt 
3:40 PM: CBI seeks 5-day remand of Chidamabaram in INX Media case; hearing continues 
3:31 PM: Solicitor General Tushar Mehta present inside the courtroom as hearing in Chidambaram case continues
3:26 PM: Hearing in Chidambaram case begins 
3:23 PM: All three lawyers of Chidambaram present inside the court, hearing in the case to begin shortly
3:15 PM: Chidambaram reaches CBI special court, heavy security deployed
3:01 PM: CBI team heading towards court with Chidamabaram; former finance minister to be produced in court no 502
2.25 PM: Family of P Chidambaram and his legal team have arrived at the special CBI court
2.00 PM: CBI HQ turns into fortress as sleuths quiz Chidambaram
The area around CBI headquarters building in New Delhi was virtually turned into a fortress on Thursday as top sleuths continued interrogating former Finance Minister P. Chidambaram inside its premises.
The road leading to the building was barricaded at least 500 meters ahead of its entrance with a huge contingent of policemen standing guard. Incidentally, the new CBI building was inaugurated in the presence of Chidambaram in 2011.
1.16 PM: Media reports suggest that P Chidambaram was not co-operating with the investigative agencies and his replies have mostly been "evasive". Sources have also indicated that the CBI would make this as a ground to seek custody of P Chidambaram. Chidambaram meanwhile has denied putting any pressure on FIPB officials.  
12.36 PM: Congress leader Ghulam Nabi Azad, CPI(M) general secretary Sitaram Yechury, CPI general secretary D Raja, SP leader Ramgopal Yadav, Loktantrik Janata Dal's Sharad Yadav, RJD's Manoj Jha and TMC's Dinesh Trivedi were among those who were at the protest site.
12.33 PM: "All the political leaders are being targeted by this government," Sitaram Yechury said at Jantar Mantar.
12.30: Karti Chidambaram is leading a protest at New Delhi's iconic Jantar Mantar. Senior Congress leaders and some Opposition leaders were also at the protest site. The Congress Party has called Chidambaram's arrest is a "political vendetta". 
10:55 AM: Neither P. Chidambaram nor his son, have been accused of any offence in the INX Media case. Additionally, there is no offence disclosed against P Chidambaram in the FIR, nor a chargesheet has been filed till today - Surjewala 
10:43 AM: Over the last two days, India witnessed the broad daylight murder of democracy as also the rule of law, by the government hellbent upon using CBI and ED as personal revenge-seeking departments for the party in power as also those ruling the country. The vindictive, malicious and selective manner in which former the former home minister and finance minister P Chidambaram has been persecuted and prosecuted is nothing short of brazen personal and political vendetta by Modi government," Surjewala said.
10:42 AM: "The authorities are yet to come out with a compelling case against Chidambaram. False charges are heaped upon senior political rivals. We as a nation must rise and refuse to be mere spectacles. We hope the officers who scaled the wall of his residence will have the courage to tell the prime minister and home minister that there is zero evidence against Chidambaram," Surjewala said.
10:40 AM: Government hell bent upon using CBI and ED as personal revenge seeking departments. We stand by P Chidambaram and reiterate his innocence, says Congress leader Randeep Singh Surjewala.
10:31 AM: Congress begins press conference, alleges political vendetta
10:30 AM: A meeting of the CBI and legal team begins on preparation of remand papers.
10:28 AM: Chidambaram's official questioning started at Economic Offences Unit (EOU) this morning. 
10:25 AM: According to India TV sources, Chidambaram was quiet during CBI questioning last night. Doctors asked him questions regarding his health - if he is suffering from any ailments, or is he on medication. His BP and other vitals were noted. 
10:21 AM: Congress will hold a press conference shortly on P Chidambaram's arrest and party's future course of action. 
10:20 AM: What Kapil Sibal is saying- "It's a matter of great concern to us as members of legal fraternity, also it should be a matter of concern as citizens. All we wanted was a hearing,the presiding judge chose instead to say that I am sending the file to CJI. Isn't a citizen entitled to be heard?"
10:05 AM: Baghpat BJP MP Satya Pal Singh says Chidambaram should have surrendered. Here's what he said: "Chidambaran ji is a former Union Finance and Home Minister, he is an intellectual & knows the law, he should not have behaved like this after court's order. What happened was not good, had he surrendered earlier, his dignity would have remained intact."
10:03 AM: Salman Khurshid says CBI could have waited. Here's what he said: "It is deeply distressing that all that had to happen, there was no question of not being answerable to the law. The matter is listed on Friday, they could have waited till then to see what the Supreme Court wants to do."
10:02 AM: Karti Chidambaram says - I have never met Peter Mukerjea, I've never met Indrani Mukerjea in my life. The only time I've seen Indrani was when CBI took me to confront her. I have had no interaction with anyone directly or indirectly connected with their company.
10:00 AM: Meanwhile, Karti continues to allege that his father, P Chidambaram, is being framed in the case. This is not merely targeting of my father but the targeting of Congress party. I will go to Jantar Mantar to protest, he said. 
9:05 AM: Questions to P Chidambaram - How does he know Indrani and Peter Mukerjea, did any journalist come to meet along with Indrani, was there role of any journalist in exchange of money anywhere.
9:00 AM: Second round of questioning has begun at CBI HQ. 5 questions have so far been posed to P Chidambaram in the INX media case.
8:44 AM: P Chidambaram was also asked as to where was he hiding all this while, which mobile number was he using, and who did he meet.
8:32 AM: During his overnight questioning, P Chidambaram was asked the following questions: How many shell companies belong to Karti and P Chidambaram, Why did Karti receive money from British Virgin Island, Where did money come from for purchase of Barcelona Tennis Club, Where did money come from for purchase of properties in UK, Spain, Malaysia. 
8:04 AM: CBI also interrogated Chidambaram on his dramatic disappearance after no relief from the Delhi High Court. He was asked as to why didn't he appear before the investigating agency even after a notice was pasted at his residence.
8:00 AM: 12 crucial questions were posed to P Chidambaram by the CBI sleuths in the first round of questioning. These included questions on the INX media case, and related shell companies. 
7:55 AM: Interestingly, in July 2010, CBI arrested Amit Shah and charged him with murder, extortion and kidnapping. Three months later, Amit Shah was prohibited from entering Gujarat for two years, that is, till 2012, until P Chidambaram was Union Home Minister. Today, Amit Shah is Union Home Minister and P Chidambaram has been arrested by the CBI.
Amit has had then said -- Mera paani utarte dekh kinare par ghar mat bana lena, main samundar hoon, laut kar zarur aaunga (Thinking the tide has ebbed, don't you dare build your castles on the coast. For I am the sea, and I always come back) 
TO READ FULL STORY, CLICK HERE
7:50 AM: Life has come a full circle for Chidambaram. Why are we saying this? In 2011, Chidambaram had himself inaugurated the very CBI Headquarter he is in right now. He was arrested last night from his Jor Bagh residence and taken to the CBI headquarter. 
News agency ANI has released file footage of then Union Home Minister P Chidambaram attending the inauguration of the CBI Headquarter on June 30, 2011. 
TO READ FULL STORY, CLICK HERE
7:12 AM: Several Congress leaders jumped in to shield Chidambaram, who was arrested last night. Anand Sharma said Chidambaram is a respectable law abiding citizen. Media must be reminded that right to liberty is a fundamental right and it has to be defended, he said. Trial by sections of media and PC's vilification was unwarranted and undermines its credibility, he added.
6:47 AM: Chidambaram was interrogated by the Investigation Officer post midnight in the INX media case. He looked perturbed, sources said. 
6:30 AM: Sources reveal Chidambaram was offered food by the CBI sleuths, but the Congress leader refused to eat anything. He had a night of disturbed sleep, add sources. 
6:17 AM: According to India TV sources, Chidambaram who spent his night at the CBI guest house, was questioned post 12 last night. His answer to most of the questions posed by the CBI was a 'No'. 
6:00 AM: After the arrest of P Chidambaram late night, his son Karti said it was a vindictive and malicious act done by a pliant agency. This is only done to settle political scores, he said. There was absolutely no necessity for this. Karti further said the arrest was made only to create a spectacle on TV and to tarnish the image of the Congress party and his father. This is a completely trumped-up case in which he [Chidambaram] has absolutely no connection. We will fight this out politically and legally, he said.
What is the INX Media case against Chidambaram?
In May 2017, the Central Bureau of Investigation (CBI) registered an FIR for alleged discrepancy in the Foreign Investment Promotion Board's (FIPB) clearance given to the INX group in 2007. Chidambaram was Finance Minister at that time. 
The Financial Intelligence Unit (FIU-IND) under the Finance Ministry had raised queries over foreign direct investment of over Rs 305 crore made by three Mauritius-based companies in INX Media Pvt Ltd, then owned by Peter Mukherjea and his wife Indrani Mukerjea. 
The case was forwarded by Mumbai IT Department to the Enforcement Directorate (ED), which also registered a case against the media organisation in 2010. INX Media in turn engaged Chidambaram's son Karti -- the promoter-director of Chess Management Service (P) Ltd, to resolve the issue, by influencing various departments of FIPB.
ALSO READ | Arrested, Chidambaram spends night at CBI HQs he once inaugurated
ALSO READ | I always come back: When Amit Shah foresaw reversal of fate vis-a-vis Chidambaram
ALSO READ | Who is Palaniappan Chidambaram and what is the case against him?