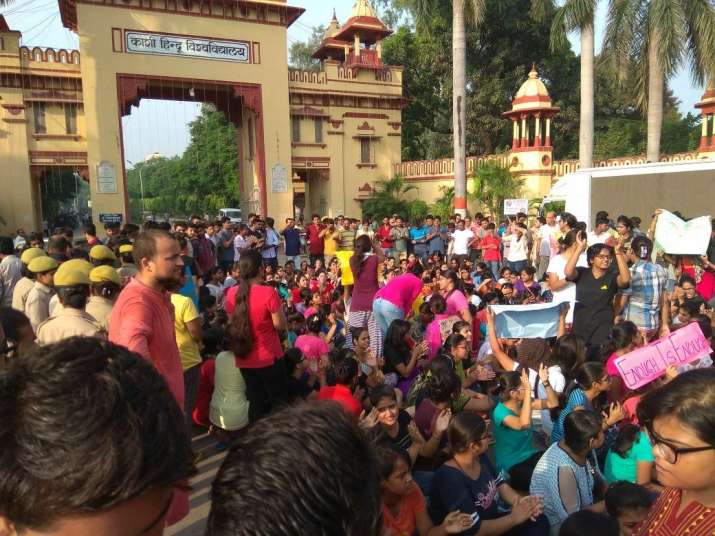 The police on Saturdat baton-charged the Banaras Hindu University (BHU) students, most of them female, who were protesting inside the campus since three days against alleged molestation of a varsity girl. 
As per media reports, four students, including a female, were injured in the incident. 
The protesting students alleged that the police thrashed them and dragged through hair – an allegation denied by the authorities. 
Following the police action, students from boys' hostel allegedly indulged in hurling stones and petrol bombs, targeting the police and paramilitary forces on VC Lodge Road. 
According to reports, police had to resort to baton-charge after a group of boys blocked the gate of the Cice-Chancellor's lodge in support of girl hostellers protesting since Friday against the menace of harassment on campus. 
On Friday, girl hostellers had held a 13-hour demonstration even as Modi attended programmes in the city.
The latest incident was reported on Thursday, when a woman student of the Arts Faculty was harassed by three men on a motorcycle inside the campus as she returned to her hostel. 
The three men abused her and fled when she resisted their attempts, she said. 
The woman alleged that security guards, about 100 metres from where the incident happened, did nothing to stop the men.
She said her warden, instead of taking up the issue with her superiors, asked her why was she returning late to the hostel. 
The warden's response angered the student's colleagues, who sat on a 'dharna' at the main gate midnight Thursday. One of the students even got her head tonsured. 
The protest is continuing. It had forced authorities to change the planned route for Prime Minister Narendra Modi's convoy on Friday.
The students said they have to face eve-teasers inside the campus regularly and the varsity administration was not taking any action to stop the miscreants. 
Police and BHU professors tried to pacify the students on Friday, but they refused to end their protest and sought assurance from the university vice chancellor. 
A large number of police personnel have been deployed near the campus as a security precaution, said the police. 
On Friday night, the BHU issued a statement saying the 'dharna' by the students just a day before Modi's visit was "politically motivated" to malign the image of the university. 
The university also said that security guards were regularly patrolling the campus and assistance from the police is sought from time-to-time to maintain peace in the campus.