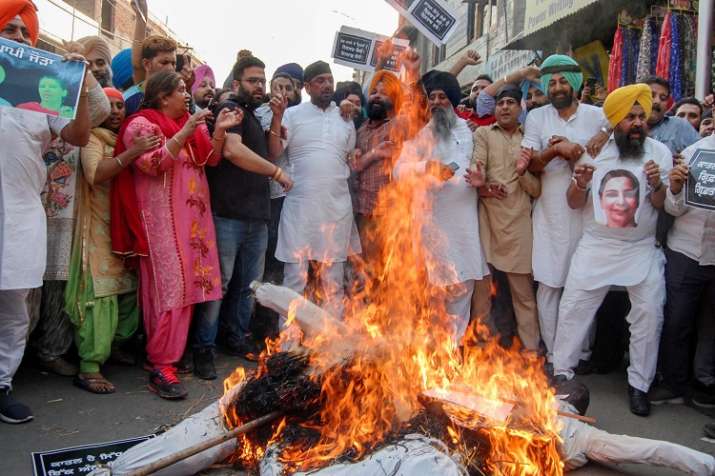 A case against Sidhu's wife Navjot Kaur Sidhu and the organisers of the Dussehra event was filed in a Bihar court on Monday, which held them responsible for mowing down of several revellers by a passing train in Amritsar on October 19. The complaint claimed Sidhu and organisers of the event were solely responsible for the tragedy and the court should order a trial against her.
The case was filed by a social activist in a Chief Judicial Magistrate's court, who contended that a large crowd had gathered there due to Sidhu's presence and her emotive speech led to a surge in the crowd that spilled over to the railway track.
The complaint also claimed all security personnel present at the venue were engaged in providing safety and security to Kaur, instead of controlling the crowd.
The footage of the incident shown on television had hurt him deeply, the complainant said, while praying for initiating a case against Kaur under Indian Penal Code sections 295 (injuring or defiling place of worship with intent to insult the religion of any class), 336 (act endangering life or personal safety of others) and 504 (intentional insult with intent to provoke breach of the peace) among others.
The court has fixed November 3 as the date of hearing into the case.
Congress MP Sunil Jakhar and Punjab minister Tript Rajinder Singh Bajwa, however, came forward in Sidhu's defence and sought to shift the blame on the Railways.
Earlier, Sidhu had also targeted the Railways, asking how a "clean chit" was given to the loco-pilot of the train within "one day".
Defending his wife, the Congress leader had said as soon as she got to know about the accident, she went to the hospital to visit the injured.
The NHRC had served notices to the Punjab government and Railways in the matter earlier on Monday.
The NHRC, which has sought a detailed report on the incident within four weeks, said, "It seems that the local authorities and the organizers did not properly manage the crowd, gathered to watch the Dussehra celebrations. It was the responsibility of the State to provide proper safety and protection to the citizens during the event."
The tragic incident in Amritsar claimed the lives of nearly 60 people while watching Dussehra celebrations from across the tracks. The deceased also included migrants from Bihar and Uttar Pradesh.
Angry over the incident, people pelted stones and clashed with the security personnel at the accident spot on Sunday.
The protesters sat on the railway tracks where the accident had occurred and were later removed by the authorities.
Watch full coverage of the news on India TV's special show Aaj ki Baat with Rajat Sharma: