Follow us on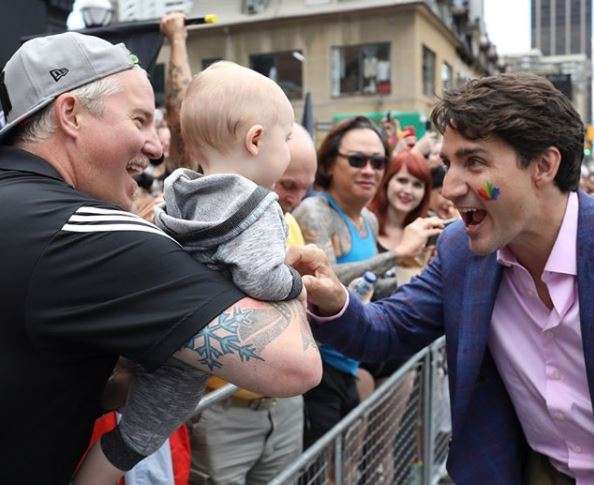 Canada got a new Prime Minister Justin Trudeau in October 2015 and people across the globe went gaga over him. His Liberal Party won the Canadian general election and this ''nice guy'' became a crush of every girl. They began wondering, 'why don't they have such a leader in their country?'
Besides his hot looks and cool personality, his progressive and liberal thoughts, as well asthe way of tackling issues, won hearts. Do you have a leader who publicly expresses love for his lady luck on Valentine's Day? Do you know any such leader who participates in Pride Parade and dresses up during Halloween? Or, any politician who conducts Facebook live to interact with citizens? The answer is no. Right? Well, Justin Trudeau is one who does all and even more and that's the reason why the world is obsessed with him.
Before joining politics, Trudeau tried his hands in teaching, bungee-jumping, coaching and has even acted in 2007 Canadian movie The Great War. He is probably the only politician in the world who has a tattoo and whose shirtless photos are available on the internet. Trudeau is sporty, quirky, playful and what not, thus, giving girls innumerable reasons to crush on him. While he is on his 7-day visit to India, let's check out those factors which make Trudeau, the coolest Prime Minister of the world.
Gender Equality Is His Top Priority
After swearing in as 23rd Prime Minister of Canada, Trudeau established a diverse cabinet, which had an equal number of men and women and all under the age of 50. When asked the reason, he said, '' Because it's 2015''. Simple!
His support for LGBT
Trudeau is an LGBT ally and is the first sitting PM to participate in Pride Parades.
Fond Of Animals
Just like us, even Trudeau is fond of animals. His picture of holding and cuddling baby pandas went viral.
He Is A Proud Feminist
Trudeau has repeatedly called himself a feminist. He said, ''If you're a progressive, you really should be a feminist because it's about equality. It's about respect. It's about making the best of the world that we have.''
Too Romantic
He is a family man and is deeply in love with his wife, Canadian TV host Sophie Grégoire Trudeau. The couple is parents of Xavier Ella Grace and Hadrien. Recently on Valentine's Day, Trudeau took to Instagram to express his admiration and respect for his wife. He wrote, ''I'm so lucky to have you by my side. Happy Valentine's Day Sophie.''
Shows off his moves
The Canadian PM is a wonderful dancer. Haven't you seen his bhangra video? Clad in a white kurta, Trudeau danced to a Bollywood number at an event organised by the India-Canada Association of Montreal. He also did naagin dance. Don't believe us? Then see for yourself.
Love For Refugees
He has shown the world to embrace immigrants. He welcomed more than 28,000 Syrian refugees in November 2015 and even went to the airport to receive some of them.
Quirky PM
He dressed as a superman for Halloween one year. His own campaign ads poke fun at him. And, well he is great at balancing babies with one hand.
For all news and updates, stay tuned to our Facebook page