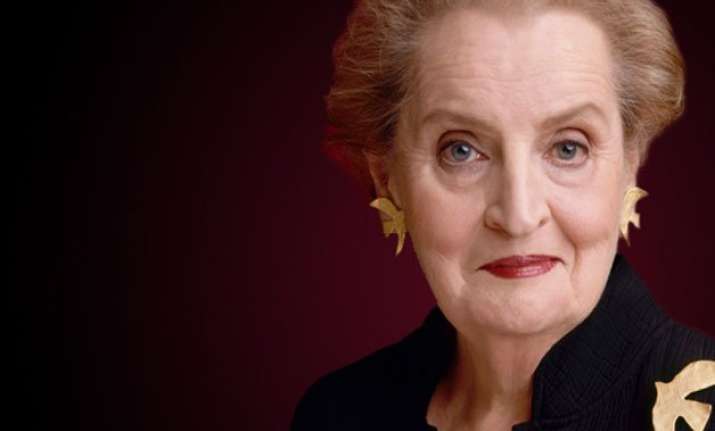 New York:If the US president is the world's most powerful leader, his secretary of state (or foreign minister) is a close second though maybe not as well-known.
Of the 68 secretaries since 1790, few are recognised names - even in America - though six, right from the very first (Thomas Jefferson), went on to become presidents themselves.
Only three have been women, but they happened to be in office at critical and challenging times, held their own in high-level diplomacy and have penned absorbing accounts of their experiences.
It may have taken the US more than 200 years to have a woman as its chief diplomat (being beaten by Romania, Israel, Sri Lanka, and a cross-section of America's diversity, but had impressive credentials.
Turkey among others) but then three held the post in the decade-and-a-half since 1996 (while one more was in contention in 2012 but withdrew). Daughters of a Central European emigre or an African American churchman and wife of a former president - the trio represented
Though dealing with matters already out in public, their versions add considerable insight on responses to a wide array of key challenges faced by not only their country but the world at large in the 20th century's last decade and the 21st's opening ones - of ethnic cleansing and genocide (and the global community's reaction), Islamist terrorism, the rise of China, and others - while giving an invaluable but sobering account of how some conflicts (Middle East) defy even the best efforts of superpowers to resolve.
The first of this trio, Madeleine K. Albright (1937-) was earlier appointed by president Bill Clinton as envoy to the UN in 1993 - a time when its credibility declined as it withdrew posthaste from a chaotic Somalia, failed to stop massacres in an unravelling Yugoslavia and seemed unable to gauge the scale of killings in Rwanda or respond effectively.
In "Madam Secretary: A Memoir" (2003), she does not shy away from discussing these matters and taking responsibility but also bringing out the limitations - and the disunity - of great powers and others on the UN Security Council in responding to these events.
As secretary of state (1997-2001), Albright describes her determination not to let Kosovo become another Bosnia and the vigorous diplomacy needed to this end. And then there are riveting accounts of the frustration in nudging thr Israelis and the Palestinians towards talks with meaningful outcomes, of attending the UN conference on women in Beijing, of experiencing the surrealistic atmosphere of North Korea, and the US' first experience of Al Qaeda through the 1998 bombing of embassies in Kenya and Tanzania.
Condoleezza Rice (1954-), who held the post 2005-09 in George H.W. Bush's second term, was his national security advisor (also being the first woman in this post) 2001-05 when 9/11 and the second Iraq war took place. In "No Higher Honor:
A Memoir of My Years in Washington" (2011), she begins with those turbulent days in September 2001 and of fashioning the response against Al Qaeda and Taliban and then as the Bush administration changed tack and moved towards war with Saddam Hussain's Iraq. While acknowledging the intelligence about the weapons of mass destruction in Iraq proved wrong, she remains steadfast that the US intervention for regime change was justified.
Rice also deals with the issues where progress faces frequent reversals or roadblocks - the Middle East, the Korean peninsula and so on, as well as other high-level diplomacy which saw her log 1.06 million air miles in visits to 83 countries (though this was beaten by her successor, with 112 countries though only 956,733 air miles).
A former first lady, a two-term senator and contestant for her party's nomination for president in 2008 (and coming close to winning), Hillary Rodham Clinton (1947-) had no lack of experience for the post, where the initial priorities were repairing fractured alliances and ending two wars. And soon there was the Arab Spring while unresolved conflicts continued to fester.
In "Hard Choices" (2014), Clinton (2009-13) focusses on responses to these and other challenges as well as her fresh initiatives - championing "smart power" diplomacy, use of social media and reaching out to common people and civil society in countries she visited.
Of key interest is the account of the May 2011 raid to settle scores with Osama Bin Laden, of negotiating military intervention in Libya, of dealing with Pakistan, and of facilitating an end to Myanmar's diplomatic isolation (and meeting Aung San Suu Kyi).
Indian readers might not be pleased at the country's lack of detailed mention except in Rice's account, but the authors hold they were forced to leave out several issues to keep their books to manageable levels - though they still range between 600 and 800 pages! But for anyone interested in understanding the responsibilities and limitations of US power, they are essential reading.