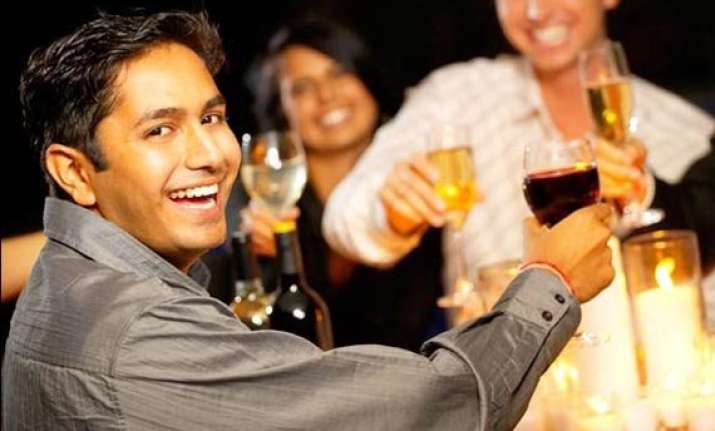 Lucknow: Top-of-the-line liquor bottles, including the prohibitively expensive Johnnie Walker Blue Label, packed together are quite popular as gifts this Diwali in this Uttar Pradesh capital.
 
Special Diwali packs of a collection of liquor bottles, all wrapped into one, are selling well.
 
Bacchus' worshippers are making a beeline to liquor vends, dotting the city landscape, trying to pick up "the best and the most cost-effective one" for their drinking buddies.
 
Chivas Regal, Johnie Walker, Blenders Pride are some of the top brands that have hit the market with attractive packs of liquor for Diwali.
 
K.L. Verma, general secretary of the Liquor Sellers Association, told IANS that the "trend has picked up well, so much so that most major brands in the liquor trade are now vying with each other for customer attention".
 
And while in some packs you get different bottles of liquor, others come with ice tongs, ice buckets, whiskey glasses, bottle opener and a peg meter.
 
"There is a lot of variety available for all those who love their drink...and I too have picked up a few packs for my friends and one of my uncles," says Rishabh Srivastava, an aficionado, with a big smile.
 
The packs range from Rs.1,000 to over Rs.20,000.
 
The most expensive being Johnnie Walker Blue Label, followed by Royal Salute, Johnnie Walker Platinum and Black Label, and then the Blenders Pride Blue.
 
Kuldeep Sharana Saxena, a 76-year-old retired government official, recalled that drinking on Diwali was an "in thing" many decades back, specially in the Kayasth community.
 
He quickly added that liquor as Diwali gift was a "new and tempting proposition".
 
Not just liquor. Shopping this Diwali has taken a completely new hue in the state capital of Uttar Pradesh.
 
Dry fruits and and sweets packed in colourful and glitzy packs now seem passe.
 
This Diwali in Lucknow an estimated business of Rs.500 crore took place Tuesday on account of Dhanteras.
 
The markets are offering a varied range of items that can be gifted.
 
You have "less fried" snacks and a wide range of electronics gadgets, including the latest of iPhone 6.
 
In some places, nutrition supplements are also up for sale for the health conscious.
 
Sujeet Jha, a fitness trainer in a Hazratganj gymnasium, says he was "pleasantly surprised" when an acquaintance gifted him a huge jar of protein powder.
 
"This seems to be a fantastic gift for fitness buffs like me," he chuckled while pointing out that "pocket permitting" he would like to make this a habit by next Diwali and do the same.
 
Besides that, temporary tattoos of Ganesha, Laxmi - the Goddess of wealth - are in vogue and many youngsters are gifting them to their friends.
 
"This is a unique gift and not very expensive too," says Adheer Narayan.