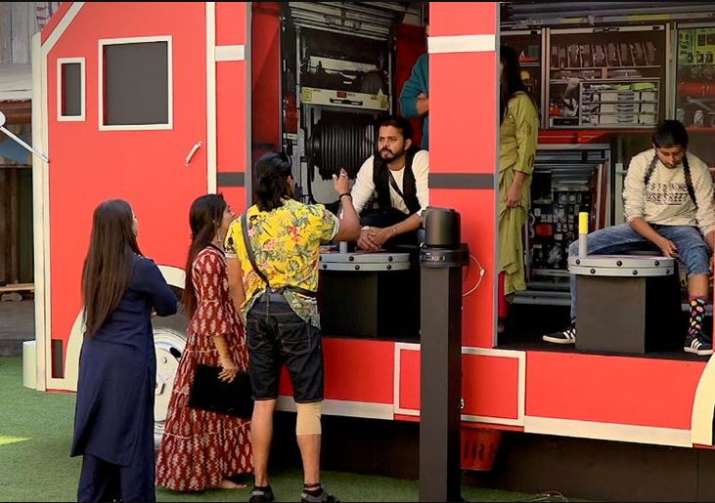 As Bigg Boss 12 is reaching its finale, the friendships that had been making headlines are put to test. In the last leg of the show, the ticket to finale has left the house divided. Karanvir, Somi, Romil and Deepak have made their minds not to leave the station and keep giving each other a chance. In the second phase, Sreesanth and KVB, who previously were friends, locked horns with each other. Sree took the seat in the fire station and Karanvir called him a cheater. The comment enraged the former cricketer. He left and let Dipika Kakar take his seat. Dipika and Deepak had to choose between Sree and Karanvir. Surprisingly, they helped by Karanvir Bohra, leaving Sreesanth disappointed.
.@sreesanth36 feels that nobody needs him in the #BB12 house and @ms_dipika is extremely upset with his behaviour. Are you watching this? #BB12 #BiggBoss12 @PanasonicIndia pic.twitter.com/2QPlR6ZHaA

— COLORS (@ColorsTV) December 18, 2018
Karanvir, Somi, Deepak and Romil discuss their strategies. They promised to stand by each other. Somi makes mind to help either Dipika or Surbhi. Romil gets angry that they are playing in a team. He thinks Sreesanth doesn't deserve to be in the game. Surbhi thinks Deepak Thakur flatters a lot and accuses him of faking friendships.
Somi Khan again gets upset with Romil and accuses him of playing foul game. She also calls him selfish. Sreesanth requests Deepak to give him one chance as he will get eliminated this week. Surbhi also requests Somi to give her a chance. She in turn, asks KVB, Romil and Deepak to give chance to others as well. Karanvir, Romil, Somi and Deepak keep giving each other a chance.
.@sreesanth36 aur @KVBohra ke pictures aaye frames mein! Kise save karenge @ms_dipika aur #DeepakThakur? #BB12 #BiggBoss12 pic.twitter.com/SxR4lp8iL6

— COLORS (@ColorsTV) December 18, 2018
Karanvir Bohra and Sreesanth locks horns for the fire station task. KVB calls Sree a cheater. This comment upsets the former cricketer. Dipika and Deepak take the seat and among KVB and Sree, they chose the TV actor. Sreesanth gets enraged over this and asks Dipika why she chose Karanvir over him.
Sreesanth takes a dig at KVB, but Somi calms Karanvir down and asks him not to respond to him. In turn, Sree gets angry at Somi, but Dipika intervenes. Sree again says that he wants to leave. After using cuss words, he apologised to Karanvir Bohra, but the fight continues.
.@KVBohra gets into a heated argument over BB Fire Station task with @sreesanth36 and @ms_dipika. What's going to happen next? #BB12 #BiggBoss12 @SportobyMacho pic.twitter.com/eLxPPc1rBc

— COLORS (@ColorsTV) December 18, 2018
Sreesanth tells Karanvir that Romil Chaudhary is using him to stay in the game. Dipika sends Surbhi while Deepak calls Karanvir in the bus. Surbhi and KVB are in the bus. Surbhi choses Dipika while KVB chooses Deepak. Both Surbhi and Karanvir choose Dipika over Deepak.  
Sreesanth tries to calm down Dipika Kakar who was disappointed with him. She says that she has never played for anyone. Later, they talk their differences out.