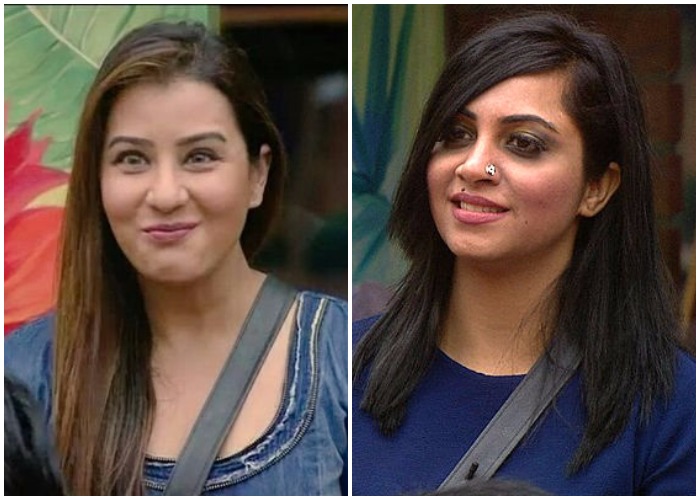 In yesterday's Bigg Boss 11 Weekend Ka Vaar we saw how Katrina Kaif and Salman Khan launched the new song from their movie Tiger Zinda Hai on the show. If you think the fun is over, let us remind you that the 'Asli Masti' has just begun. Katrina Kaif will visit the housemates tonight and play a special game with them. According to the official page of Bigg Boss, the men of the house will try to woo the gorgeous actress Katrina Kaif. Shilpa Shinde will host a Swayamvar for Katrina in the house. Also, Luv Tyagi and Puneesh Sharma will be set against each other in Salman Khan's famous Sultani Akhada. Let's see who wins the game. Also, the reports are saying that Bandgi Kalra will have to leave the show tonight. This means the Puneesh-Bandgi love story has to come to an abrupt end tonight. 
10:00 pm: Akash Dadlani and Puneesh Sharma plans against Vikas Gupta and Arshi Khan. 
09:56 pm: It's confirmed! Bandgi Kalra gets evicted! 
09:46 pm: Salman Khan shows them a sneak peek of their journey inside the Bigg Boss house. It's nostalgia time for Puneesh Bandgi. Will they stay together outside the house as well? Let's see what this eviction has in store for them. 
09:34 pm: Salman Khan asks every housemate who they feel will leave the house. Hina Khan feels that Luv will leave the house.Shilpa, Hiten and Vikas feel that Luv will get evicted. Salman finds Hina's answer very amusing as she named her own friend. He then announces that Luv is safe this week. The love story is coming to an end now! Salman Khan sends both of them outside to take the decision. Either both of you go or let the one go who has the least votes. Puneesh and Bandgi both leave the house to enter a secret room. 
09:30 pm:  Vikas is the next 'bakra' in the task. Every 'yes' will push him more into the water! Shilpa is the next. Arshi feels that Shilpa doesn't have any real friends in the house except her. Hina, on the other hand, feels that everyone in the house is the winner of the season. She also feels that Arshi gives up on every task very easily and also that she's weak. Hina also finds Shilpa-Arshi's friendship a fake. 
09:25 pm: Salman Khan hosts a fun task for housemates. A 'yes' will push the housemates in the swimming pool. Hina Khan is insecure, says Priyank! 
09:18 pm: Luv and Puneesh in the Sultani Akhada. It's a tie in the first round. Now comes the physical round! Luv Tyagi wins the Sultani Akhada. 
It is time for two housemates to battle it out in the Sultani Akhada. Watch all the action only on #WeekendKaVaar. pic.twitter.com/63QQUlUCch

— COLORS (@ColorsTV) December 3, 2017
09:16 pm: Luv and Arshi don't find chemistry between Puneesh and Bandgi. 
09:13 pm: Salman Khan gives his own twist to Shah Rukh Khan's dialogue from Jab Tak Hai Jaan. Katrina Kaif ditches everyone else and chooses Salman Khan over everybody else! Bandgi Kalra and Puneesh Sharma discuss eviction, the latter asks her boyfriend to stay away from Arshi Khan. Puneesh says he will lose control if Bandgi gets evicted. They both are sitting hand in hand. 
09:08 pm: Vikas Gupta, Puneesh Sharma shaking their bellies! What a hilarious sight. Now comes Hiten Tejwami on the stage. Priyank Sharma got some impressive moves. Vikas, Priyank and Hiten are selected. 
Woah! The boys really have some cool belly dance moves. Watch #WeekendKaVaar to see what the next round to impress Katrina Kaif will be. pic.twitter.com/aTEIFDjJzu

— COLORS (@ColorsTV) December 3, 2017
It is time for the boys to show-off their abs, but in this fun dance contest. Tune in right now to #WeekendKaVaar to catch all the masti. pic.twitter.com/ag1GevtVZ4

— COLORS (@ColorsTV) December 3, 2017
Now the contestants have to make sketch of beautiful actress to impress her. 
09:05 pm:  Men of the house has to make round rotis to impress Katrina Kaif. A-Cash has made an impromtu rap to lighten the mood. Katrina says Akash Dadlani's rotis are 'ekdum flop'! Puneesh Sharma wins this round, while Vikas Gupta comes second! 
The boys compete to impress Katrina Kaif through this fun competition. Catch it only on #WeekendKaVaar. pic.twitter.com/ni69eDW1Fw

— COLORS (@ColorsTV) December 3, 2017
09:03 pm:  Salman assigns the task of Swayamavar to Shilpa Shinde. The housemates have to use the props to impress Katrina Kaif, who will be in the house very soon. Katrina Kaif is in the house. The contestants give her a brief tour of the BB11 house. 
.@BeingSalmanKhan calls up the #BB11 house to talk to this particular housemate. Find out who it is on #WeekendKaVaar pic.twitter.com/G0iX4V1dun

— COLORS (@ColorsTV) December 3, 2017
09:01 pm:  Salman Khan shows the secret room to Katrina Kaif. 
.@BeingSalmanKhan is coming to spread his charm, tonight at 9 PM only on #WeekendKaVaar! Be ready for all the fun, drama and entertainment! pic.twitter.com/QXUD8Gg0PC

— Bigg Boss (@BiggBoss) December 3, 2017