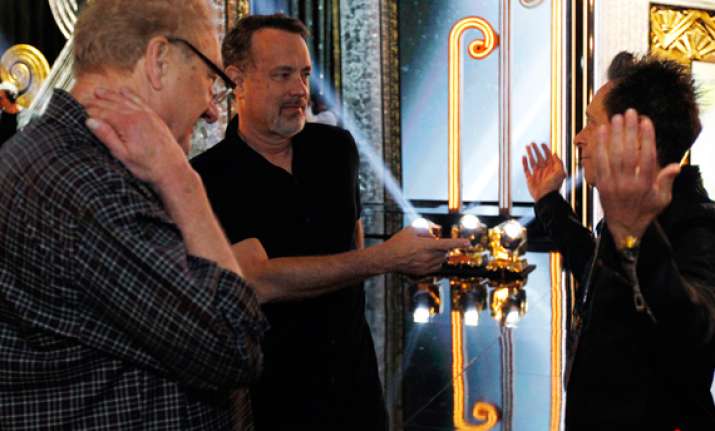 Los Angeles, Feb 26: The Academy Awards are a big deal—even to A-listers. That's why a parade of stars came through the theater at the Hollywood & Highland Center Saturday to run through their lines and prepare to address their peers in front of a worldwide audience of millions.


MUPPET REHEARSAL: Even celebrities of the felt variety took time to practice their lines. Though Kermit the Frog and Miss Piggy have been famous for decades, they still rehearsed like the dedicated pros they are.

The two Muppets and their invisible operators delighted the crew of show workers with their playful banter and puppet antics. Film academy president Tom Sherak was so taken with the two that he sat nearby throughout their rehearsal.




"Hey Don, it's been too long," Kermit said to the show's producer-director, Don Mischer.

"I'm going to try to get up there and see you," Mischer replied over the theater loudspeaker.

"I have no idea how to get down there," huffed Miss Piggy.

After their rehearsal, the two formally dressed stars were placed on special stands, shrouded in black cloth and carried away.

BACKSTAGE MEETING: Oscar host Billy Crystal, who has declined to speak with reporters and kept his rehearsals closed throughout the week, emerged from his dressing room to observe the proceedings Saturday. Wearing jeans, sneakers and a newsboy cap, the comedian blended in with the rest of the backstage workers—so much so that he had to re-introduce himself to an admired colleague.

"Hi James, Billy Crystal," he said to James Earl Jones, who received a Governors Award late last year and will be honored again at Sunday's ceremony.

As soon as the actor recognized Crystal, he hugged him.

"With that cap on, I thought you were a hoodlum," Jones said before wishing the comedian well on his ninth Oscar-hosting stint.

"Have fun tonight," Jones said, "and tomorrow night."

A BLAST OF "BRIDESMAIDS": The cast of "Bridesmaids" reunited on the Oscar stage and dosed the theater with a blast of energy.

"Oh my God, I cannot believe I'm there!" Rose Byrne said when she spotted her seat near the front of the theater.

"I see you!" Maya Rudolph said to Kristin Wiig, pointing out her seat-saving placard.

As the actresses prepared to make their entrance alongside co-stars Melissa McCarthy, Ellie Kemper and Wendi McLendon-Covey, they threw up jazz hands and pretended to disco dance. McLendon-Covey also played an oversized air guitar.

Once they emerged and hit their marks, McLendon-Covey pointed her toe and lifted her skirt to overtly flash some leg, cracking up the audience of show workers. (The rest of the women wore pants—and all rocked in towering heels.)

When Wiig missed one of her lines, she confessed, "I'm so glad we're doing this rehearsal!"

FUNNY WOMEN: Emma Stone ran into the "Bridesmaids" cast as she stepped into the wings, stage right.

Oscar producer Brian Grazer introduced her to the rest of the ladies.

"I hear about you all the time!" Stone gushed to Melissa McCarthy, who is nominated for her supporting role in the film.




"The Help" star then turned to Maya Rudolph and told her, "You on 'Saturday Night Live' was so amazing!"

Stone offered a round of hugs, but Kristin Wiig stayed back.

"I have a cold, so I can't get in there," said Wiig, a nominee for the "Bridesmaids" screenplay.

"So we can't make out right now?" Stone replied.

When she noticed the women's statuesque stilettos, Stone asked: "Wait, were we supposed to bring shoes?"

Still, she stepped on stage in her flats and soared through her rehearsal.

PHOTO OPP: Even veteran producer and multiple Oscar winner Brian Grazer was excited about seeing stars: The Academy Awards producer posed with nearly every celebrity who came to rehearsals.

"Can I take a picture with you guys? For my obituary?" the 61-year-old said to presenters Tina Fey and Bradley Cooper, who happily obliged.

"I want one picture," Grazer declared to Sandra Bullock, who said, "We just did one!" Still, she smiled for another photo.




Chris Rock posed for multiple pictures with the producer and his sons, both on stage and in the green room.




"When I came to town, Grazer was running things," Rock said. "Thirty years later, nothing's changed."

Christian Bale came to the theater carrying his young daughter, who was wearing a wizard costume. He handed her off to his wife to pose with Grazer.

Colin Firth and Tom Hanks also took pictures with the producer.

"You can take as many as you like," Firth said.

FAKE OSCARS, REAL PRESENTER: Tom Hanks wore jeans, boots and his always-affable smile at his morning rehearsal. The two-time Oscar winner and Academy of Motion Picture Arts and Sciences governor posed for photos with the show's producers before practicing his presentation.

"Brian Grazer, can you believe it?" Hanks said as he embraced the producer. "You saved the day!"




Grazer stepped in as co-producer with Don Mischer in November after Brett Ratner—who had been tapped to co-produce with Mischer—resigned following his public use of a gay slur.

Hanks greeted the camera operators and stage managers who've worked the Oscar show for years before presenting his category.

After opening the prop envelope, the actor said, "The fake rehearsal Oscar goes to..."

EASY IRON: "The Iron Lady" wears jeans and a ponytail?

Meryl Streep, up for her 17th Academy Award, this time for playing Margaret Thatcher, kept things casual Saturday for her rehearsal, arriving in jeans, flats and a black sweater. Of course, she'll be supremely glammed up on Sunday: Streep's publicist joked that the best-actress nominee plans to wear "17-inch heels."