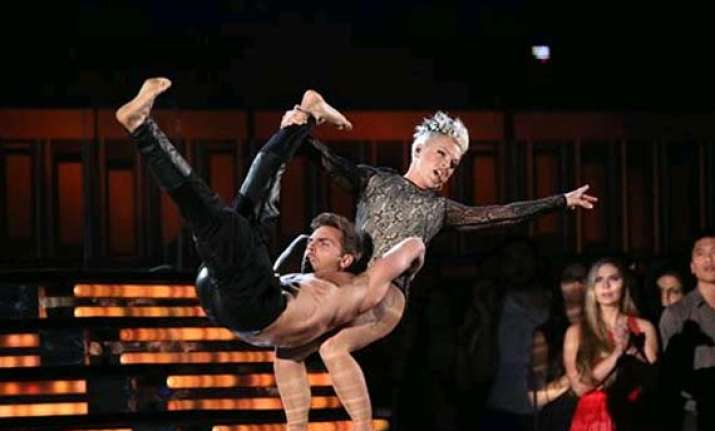 Los Angles: Stars Clink Drinks In Plastic Cups
Katy Perry noticed Robin Thicke sitting in front of her and reached out to toast the Blurred Lines singer during Ringo Starr's performance.
Both pop stars were drinking out of plastic cups — though the cups weren't quite as glamorous as the new "sippy cup" Jay-Z joked that he acquired for his daughter Blue as he accepted the Grammy for best rap/sung collaboration for "Holy Grail."
No alcohol was sold inside the Staples Center lobby before the show.
The Reason Pink Flew Through The Air
How did Pink fly across the Staples Center during the Grammy telecast?
There's a track installed in scaffolding specially designed to transport her from the center of the arena to center stage, where she joined Nate Ruess to perform "Just Give Me a Reason."
Paul Mccartney: Who Are These Guys?
The day Paul McCartney stole away with Dave Grohl to write and record a new song, there were two other guys in the studio that the former Beatle didn't recognize. Joining Grohl and McCartney in creating "Cut Me Some Slack'" were Krist Novoselic and Pat Smear.
"It was magic for me playing with these guys," McCartney said backstage Sunday after they won a Grammy for best rock song. "Tell you the truth, I didn't know who they were. I found myself in the middle of a Nirvana reunion."
From Yawns To Rocking Out: Grammy Celeb Reax
Inside the Staples Center, the celebrity reactions to the Grammys were ranging from enthusiastic — Taylor Swift rocking out to Lorde, everyone heating up over Beyonce and Jay-Z — to downright bored.
Green Day's Billie Joe Armstrong yawned during the best new artist presentation, Macklemore and Ryan Lewis sat stone-faced during Taylor Swift's performance.