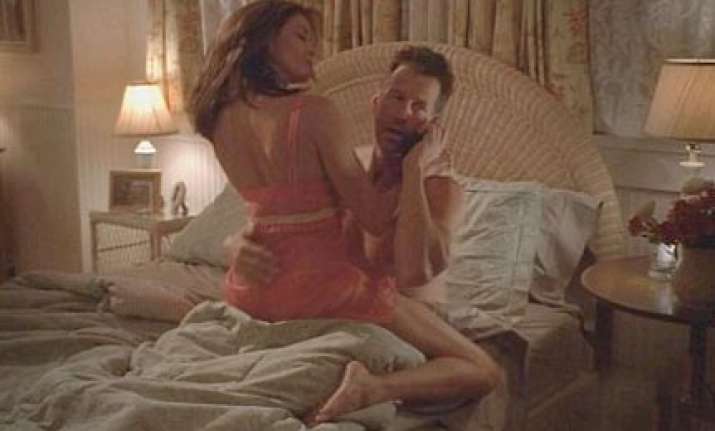 American Broadcasting Corporation on Monday night telecast a saucy episode of the popular serial Desperate Housewives in which actress Dana Delaney  was shown having a catfight with another lady in a bubble bathtub, reports The Mail, London
The story runs thus: Jilted Katherine Mayfair (Dana Delaney) tries to woo back her lover Mike Delfino. 
She  calls up the plumber and tells him she has a broken tap, but interrupts him in the throes of passion with wife Susan (Teri Hatcher).
Mike (James Denton) makes a dash to her home and she answers the door dressed in saucy underwear.
Susan  and Mike  are rudely interrupted by former lover Katherine's phone call. However Katherine is shocked to discover Susan has also turned up.
Her furious love rival soon discovers Katherine's tempting plan as she finds champagne and chocolates for two in the bedroom and sees she has also run a bubble bath.
Things then take a turn for the worse as the pair embark upon a fight, which ultimately ends with them taking a tumble together into the suds.
Things turn nasty after Susan discovers Katherine has laid out champagne and a bubble bath to tempt Mike back into her clutches
The scenes were screened in the U.S. Monday night, but British viewers will have to wait until next year to tune in and see who ends up worse off.
Season six of the hit show started Stateside last month. Earlier this year season five ended on a cliff hanger with viewer left wondering who Mike would marry - Susan or Katherine.
But despite him deciding to go back to Susan, who he has a young son with, it seems Katherine is lot ready to let go just yet.
Things spill into the bathroom where the pair have it out in their underwear
They both end up tumbling into the bubble bath
Drenched, they continue their cat fight in the water.
And, so the show goes on.