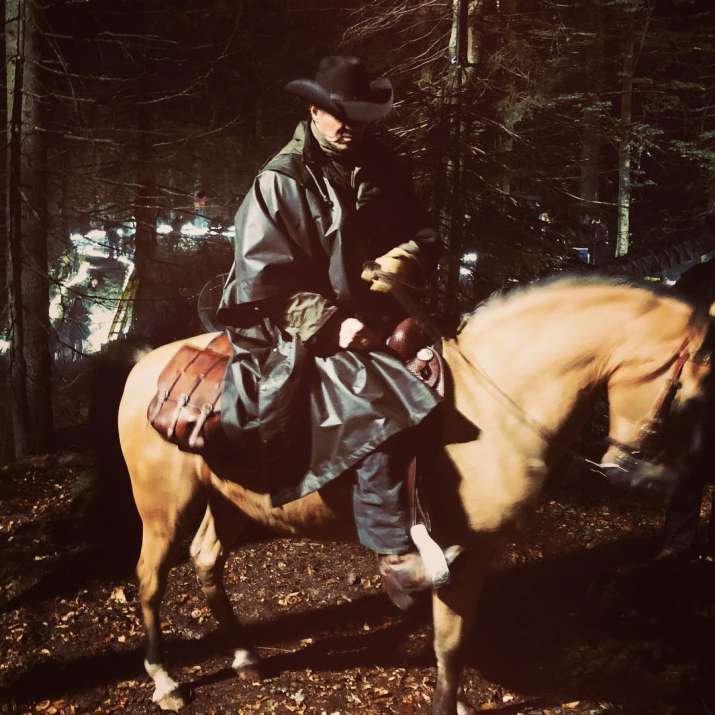 Sylvester Stallone started shooting for "Rambo 5" on Tuesday. The 72-year-old actor, who reprises his role as troubled Vietnam War veteran John Rambo in the fifth part of the action franchise, made the announcement on Instagram.
He also shared his first look from the film dressed as a cowboy.
"Tonight we start filming..." Stallone wrote in one post.
"Comes a Horseman Wild and Free. @rambomovie #rambo5," he wrote in another.
The film will be directed by Adrian Grunberg and scripted by Matthew Cirulnick.
In May, Stallone confirmed that "Rambo 5" is slated to be released next autumn.
Talk of Rambo 5 quickly followed, but Stallone's original idea of having Rambo tasked with chasing down a feral monster created by the government was met with ridicule by fans. He later conceived of a story where Rambo comes out of self-imposed exile to rescue a friend's daughter from a sex trafficking ring in Mexico, but Stallone soon became busy with The Expendables series and Rambo 5 fell into development hell for a number of years. The actor even declared he'd never play the character again as recently as 2016, but it appears he's had a change of heart in that time.
Stallone has been hard at work getting back into killer shape for Rambo 5, which has just started filming. Now the social media savvy actor has shared a first look at Rambo direct from the set to his Instagram, with the legendary soldier sporting an entirely different look than fans are accustomed to. He's also lost his trademark long hair.
The Hollywood action star will next be seen in "Creed 2", reprising arguably his most famous role of boxing legend Rocky Balboa.