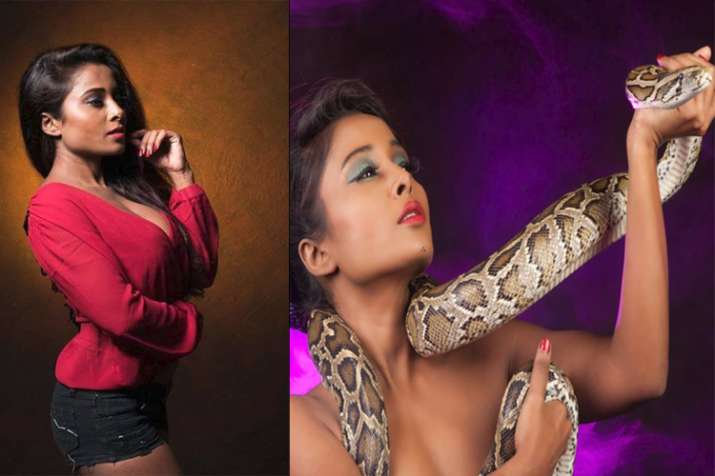 Model-turned-actress Nikita Gokhale, who rose to fame with her viral photo-shoot for Hugh Hefner's Playboy magazine, can be a part of the fresh season of the controversial reality show Bigg Boss. The beautiful actress, Nikita was earlier crowned Miss Glamour face of the World 2016. She was even crowned Miss India Bikini 2015. Nikita also represented India in 2017 Miss World Bikini International pageant.  
The Maharashtrian sensation, in a telephonic interview from Switzerland, gave us a sneak peek into her latest project. 
Here are excerpts from the interview:
Q. Are you going to be part of reality show Bigg Boss 12?
A. Yes, I was approached by the production company Endemol India. Few days back, I got a call from a lady named Darshika from Endemol India. She wanted me to be part of the show. 
Q. Was your name considered for the latest season of Bigg Boss due to the much-talked about photo-shoot for Hugh Hefner's Playboy magazine?
A. Nikita takes a moment to say, "Yes, it is true to much extent, I was approached for Bigg Boss 12 due to all the controversies I was involved in. It is also due to many of my bold statements, published in newspapers.'' 
Q. Throw some light on controversies you were involved in
A. Nikita laughs loudly and then says, "There are many. Firstly, I belong to a small town named Nagpur in Maharashtra and I was the first girl from there to shoot nude for the Playboy magazine in 2013. I even spoke boldly whenever I was asked questions about my virginity". 
Q. What's the theme and concept of Bigg Boss 12?
A. The popular reality show Bigg Boss 12 is going to have more masala this time. Unlike, previous shows, Bigg Boss 12 is going to have a partner concept this time. All the contestants will come in jodis and the partner can be anyone including friends, boyfriend, mother, father, girlfriend etc. 
Q. Who will be your partner in Bigg Boss 12, if you get selected for it? 
A. If I get selected for Bigg Boss season 12, most probably, I will come with my ex-boyfriend named Imtiaz Ali. But I will have to take permission from Imtiaz's wife first, as he is a married man now. 
Q. When is your final audition of Bigg Boss 12?
A. I am currently busy in my modelling projects in Switzerland and I am asked to visit India this month for the audition. I have already submitted my videos to the Bigg Boss team and I am still waiting for the final confirmation from the production company. Shooting for Bigg Boss 12 is going to start by October. 
For more sizzling pics of Nikita Click here 
Looks like Bigg Boss 12 will have lots of masala this time too. Stay tuned. Recap of Bigg Boss 11.
Bigg Boss is back and this time we're looking for jodis! Friend, relative, sibling, boss, bring anyone with you to the #BB12 house! Make a video with your partner and upload it now on @justvoot! @iamappyfizz @oppomobileindia pic.twitter.com/DcUtYbeRF5

— COLORS (@ColorsTV) April 20, 2018