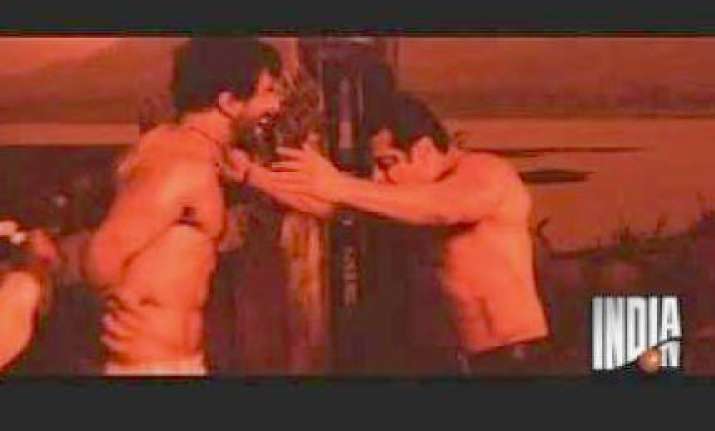 Bollywood star Salman Khan told villain Sonu Sood's son Eshaan that his papa was the strongest. Eshaan was upset after his dad was beaten up in Dabangg, says a media report.
Watching his dad being beaten up on screen isn't pleasant for any child. Sonu Sood who played baddie in Abhinav Kashyap's Dabangg, had to mollify his son, Eshaan who was upset watching the climax of the movie.
Salman Khan, the hero, thrashes Sood black and blue and seven year-old Eshaan was quite traumatised as he watched this. Ultimately, Salman convinced Sood junior that his dad was indeed a hero. Apparently, during a screening of Dabangg, Khan overheard Eshaan protest: "Papa, you have a better body than Salman. How can he beat you up?"
Khan had a chat with Eshaan and assured him that his father had the best body in showbiz and that he ought to be a very proud son.  
Sood confirms the incident. "People close to an actor generally respond emotionally to his presence rather than performance in a film. My father has become emotionally vulnerable since my mom died two years ago. When he watched Dabangg with my sister in Washington he sobbed like a baby. He doesn't want me to die on screen," the actor said.  
The Jodhaa Akbar actor added, "Salman is actually my role model. I was in college when I watched his Veergati. He'll make a terrific father one day."